Indian American Comedian Hari Kondabolu On Cocoa Butter
I have to admit, I know little about Asian and Asian-American comedians. I remember years ago when BET was still a good station and aired "Comic View." They would always show this Asian-American man telling black women why they should date Asian men (his joke ending with his "whispering" sweet nothings in Chinese), but I was never able to find a full clip of his set. Meanwhile I'd seen sets from other Asians like Dat Phan, Eliot Chang, Joe Wong, and half-Asian Steve Byrne. While I thought most of these guys had one or two funny moments, I didn't see any of them becoming the next Chris Rock or Dave Chappelle.
Then there's Hari Kondabolu.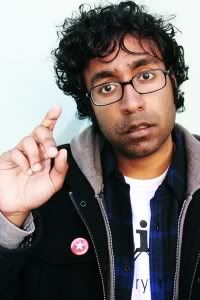 I first saw his set on Jimmy Kimmel a few years ago and I was impressed. While I noticed some of the other Asian acts would rely on Asian stereotypes, dating, and/or general pop culture, Kondabolu mostly focuses on race, politics, and religion. And he's damn funny.
Here's a joke he did about cocoa butter, ethnic care sections in supermarkets, and white chocolate a few years ago:
And here's a longer set her did while in the UK, tackling issues like "white" Jesus, Hindu vs. Islam, and Youtube videos (the first part of the clip is a slightly extended version of the white chocolate joke.
Of course it's hard to say it he can become the next Rock or Chapelle. Despite the number of POC comedians very few really get to the big time. Yes we see people like Monique and Cedric the Entertainer (neither of which seem to do stand up anymore) but people like Tony Roberts, and Sheryl Underwood aren't appearing on Comedy Central unless it's black history month. And the pool is even slimmer for Asians/Asian-Americans. Kondabolu doesn't rely on stereotypes to make his jokes, rather he calls them out. Kondabolu's brand of humor is very in-your-face, and probably makes some people uncomfortable. He reminds me a bit of
Jay Smooth
with his commentary and minus the music. Actually I'd love to see smooth and Kondabolu work together!
Either way, I think Kondabolu is funny and I'm looking forward to see more work from him.
Here's a final video from him that's more social commentary than funny about white guilt:
You can find out more about him at his website:
Hari Kondabolu