Not-So-EXILE'd: The Blasian Members of One of Japan's Biggest Boybands
I've been a fan of Japanese music for a little over 10 years and one of my favorite groups is EXILE. EXILE is one of the few non-Johnn'y Entertainment groups to make it big in Japan, selling millions and appearing in movies, commercials, TV shows and even having their own clothing line. They're a vocal/dance unit that is a mix of hip-hop, pop, and R&B. And I've watched them group from a five member group to a fourteen member powerhouse lead by ex-ZOO member and dancer HIRO.
I hesitate a bit when I call EXILE a boyband. Granted they do follow a boyband formula. But what sets them apart from a group like SMAP or DA PUMP are a few things:
They actually have vocal talent.
Members of Johnny's Entertainment like SMAP, Arashi, NEWS, and Kanjani are mostly known for their looks and entertainment factor, not their vocal talent. With EXILE, the members were specifically selected for their vocal talent even taking part in several vocal battle auditions to join the group. As for the dancers some of them are studio trained, but a fair amount of were originally street dancers.
They ain't pretty.
The members of EXILE aren't particularly ugly but they never make the "hot guy" lists in Japan save for singer Takahiro. In fact rather than go for a "cute" or "dreamy guy" image, it's often commented that the members of EXILE are downright scary and have even been compared to yakuza members. Most of the groups members are over 5'8", tanned, tattooed, and at some point have worn hairstyles ranging from mohawks, to dreadlocks, to blonde. They are also known for having great bodies and have been asked several times ton TV shows to show of their amazing abs. Depsite their negative appearance it's also been said that the members of EXILE are very nice and even shy at times.
What's even more interesting about EXILE is their recent addition of two blasian members: Nesmith and ELLY. Technically ELLY is a member of the group the J Soul Brothers. However the J Soul Brothers is an act associated with EXILE as one of the dancers of EXILE is the "leader" of the J Soul Brothers. Many J-pop fans may know about Crystal Kay and JERO as setting preseinces for being popular blasian acts, but these two guys hardly get notcied at all. Both are blasian by way of black father and a Japanese mother. So here's some info about these guys.
Nesmith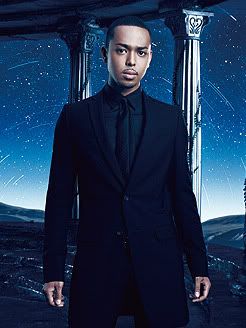 Many people don't realize that Nesmith has actually been a part of the Japanese music industry since he was about 16. In 2000, he auditioned for ASAYAN, a television show similar to American Idol. He was a finalist to be one part of the duo Chemistry along with Kaname Kawabata, Shouji Kashiwabara, Yoshikuni Douhin, and Atsushi Satou. Unfortunately Atsushi and Nemsith didn't mesh well and Douchin and Kawabata were chosen to become Chemistry. Atsushi went on to join EXILE while Nesmith and Kashirabara formed the duo STEEL. Depsite the popularity of ASAYAN, STEEL did not get the same fame as Chemistry and EXILE. In 2006 Nesmith reappaeared as a solo artist releasing the single Tsuishin:
The single did well on the chart,s but Nesmith did not release another single. That same year, SHUN, Atsushi's vocal partner in EXILE left the group. A vocal battle audition was held to find a new vocalist and Nesmith again was a finalist (he appears at 9:05):
And again, Nesmith was not selected. Takahiro was chosen to take SHUN's place (he performed at 4:25).
However all wasn't lost. Nesmith actually ended up as a member of the group J Soul Brothers. The J Soul Brothers was the original name of the group EXILE when leader HIRO started the group in 1999. He rebooted the group with six members and Nesmith being one of the vocalists/dancers:
The 2nd Generation J Soul Brothers debut album hit No. 1 on the charts. But before their careers could really take off, Hiro merged both JSB and EXILE to create the 14-member EXILE. The group now have four singers with Shokichi, the other male vocalist in the J Soul Brothers being added with Nesmith, Takahiro, and Atsushi.
So this is where Nesmith has been since then. And that brings us to ELLY.
ELLY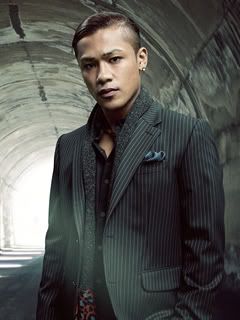 ELLY's history is much shorter than Nesmith's. He's appeared in a few videos for artist like W-inds and DJ Makidai (who is also a member of EXILE). He got his big break when he joined the Gekidan EXILE, dance musicals which often star EXILE members. In 2010 Hiro again decided to reboot the J Soul Brothers (calling them the 3rd Generation J Soul Brothers). ELLY was added as an official member of the group (his solo comes in at about 3:00):
EXILE continues to hit number 1 or the charts. While the J Soul Brothers haven't released an album yet, they sales figures of their singles indicate a pretty good outlook for them. ELLY and Nesmith will "face off" in the near future when a special 2nd Genration J Soul Brothers vs. 3rd General J Soul Brothers "battle" will take place. It's good to see more blasian folks in media so let's see how far these guys go.