A Tall Order: Dating Asian Guys When You're Above Average Height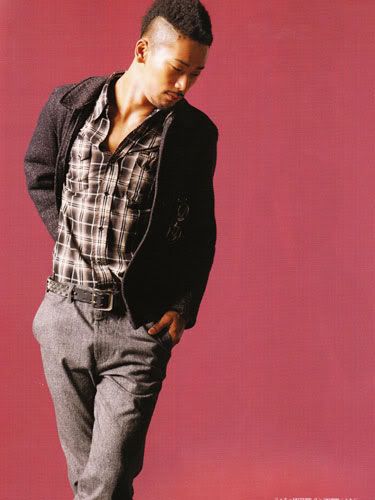 NAOKI from the R&B/Dance Groups EXILE
and J Soul Brothers. He's 187 cm.
Sometime ago I came across a conversation on a message board about black women dating Asian men. One woman said she wasn't into them because of her height. She felt she was "too tall" to date those "short" Asian guys. I raised an eyebrow at this. To some extent I could understand where she was coming from. As a woman who's almost six feet tall I've had my share of men turn me down because of my height. Hell some of those guys were much taller than me telling me they wanted a girl who was 5'3." But on the other hand, height hasn't stopped me from getting the guys I wanted regardless of them race. But I can't say I always felt this way.
Height is one of those shallow things that a lot of people think about when it comes to dating including myself. When I was in high school I told myself I would only date guys that were at least six feet tall. But after being ignored or shunned by man after man due to my height--I actually had men taller than me telling me I was too tall for them--my self-awareness at how shallow I was being came back at me. So I opened my mind a bit more and decided to go out with guys that didn't meet my height preference.
When I decided to go to Japan I was nervous about how I would be treated. Not only was I a black American female, I was a TALL black American female. I'm considered well above average height in the states, so would be seen as a giant in a country where average height for a woman is 5'1"? I worried about buying clothes and shoes to fit my size 11 feet. I worried about doorways and if my students (all children) would run away screaming at the tall foreign woman who claimed to be their teacher. And of course I wondered how this would affect dating. Japan is a country where being "small" and "cute" is ideal. How would men react to tall ole me?
These fears soon when away the moment I set foot in Japan. Because in Japan I was going to stand out simply because I was a black woman. So what was the point of worrying about how tall I was? With this thought in my head, I found myself more confident in my height. And it didn't seem to deter men at all. LOL I think they were more fascinated about me being black or me being American to pay attention to my height. And as a result I ended up dating guys that were as short as 5'3" up to about 6'5." I'm sure me and the guys were getting stares while we were out on the town but hell people were staring at me when I was alone. so I got over it pretty quickly. I didn't feel uncomfortable with shorter guys because I was with them because I enjoyed being them. And I was finally comfortable enough with myself to realize that height is really only a big deal if you make it out to be.
Then I returned to the US. I was back on my own turf, were my race and nationally weren't considered to be all that "special." On top of that I was mostly interested in Asian guys at this time and living in an area with different types of Asians and Asian-Americans. Would I again be pushed aside by men here because I wasn't the 5'6" cutie walking down the street? My self-esteem was shooting down before I even set foot back in the states. But I knew thinking this way certainly wouldn't help me at all. So I told myself to grow a pair and regain some confidence. I remembered I was a pretty hot woman and I needed to own my height and not let it own me.
And what do ya know, height was a non-issue again. Maybe because I'm living in an area where there are a whole lot of tall ass women but men regardless of race didn't seem to care so much about my height. When I was younger I was too self-conscious about myself and when I went to Japan that I gained confidence. LOL of course you don't have to go to Japan to get some self-esteem but sometimes you have to just not worry about what other people think of you. I can't say this is the sole reason for why men approached me, but I do feel that things went up when I saw myself more in a positive light.
When I decided to date more Asian guys in the US, I did get one or two who were all "no thanks, I prefer shorter girls," but there so many other guys who didn't give a flying fuck that I was their height or a whole head taller than them. So I cared little about their height as well. Sure there were good times and bad times when I went out with guys but really you can get that with anyone. Height has very little do with it. Shen isn't as tall as I am, but he certainly has no problem with it.
So yes ladies, even you tall ones can date Asian guys. Stop worrying about height and just go out there and get them!