A Short Look At Blackface in Japan
So yeah it's pretty clear that I have love for Japan. Lived there for 3 years, enjoy a bit of pop culture and will cuss Shen out in Japanese when he pisses me off over something. That being said, I'm also not blind to some of the crazy stuff they do. No I'm not talking about releasing hentai that features little kids doing sexy shit. I'm talking about shit like this.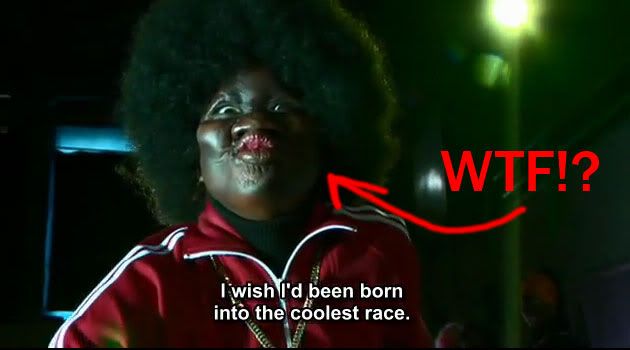 A while ago I wrote about how I was not feeling the show
Nita Negrita
because the show had a Filipino actress in blackface. Well Japan has had their fair share of "WTF!? is that blackface!?" moments. So I've choosen some of the more "speshul" moments of blackface in Japan starting with what I think was the least offensive to the most offensive. And interestingly the picture I posted here not what I think is the worst.
"Black Girls" in Vampire Girl vs. Frankenstein Girl
This clip is a scene from a movie called
Vampire Girl vs. Frankenstein Girl
. I actually first spotted this clip on a black gossip site and without context it's pretty easy to see why people would get pissed off at this scene:
I'm sure you're thinking, "WTF!? This is the least offensive video!?" My initial reaction was that this wasn't funny and the makeup is definitely the most grotesque that I'd seen. And it's so over-the-top that I'm having a really hard time taking this seriously. But there's also something else going on in the video that if you don't much about Japanese subcultures, you may not get.
Honestly, I don't think the video is making fun of black people but
"ganguro." Or "gyaru" or "yamanba."
The name of these guys change a lot. Anyway I think it's specifically making fun of "b-girls" and/or "b-binba." There are many different styles with in the gyaru culture and b-girls basically are female versions of thugabees. They tan to look darker and wear heavy make-up. They get dreads, braids, afros, etc. and wear a lot of jewelry and hip-hop clothing labels. Generally they look like this: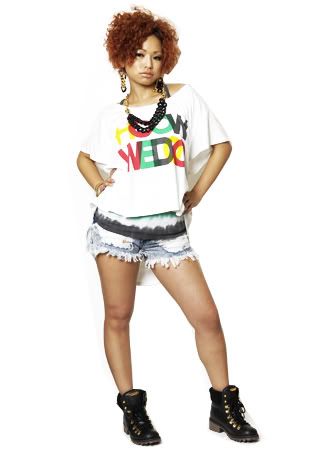 Here outfit is from the store LB-03 a hip-hop clothing store in Japan.
And that's considered to be the fashion style of black women in the Us. But it goes beyond fashion. While these girls will know nothing about the Civil War, Hurricane Katrina, Alice Walker, or Maya Angelo, they can rap every word in a Lil Wayne song without even knowing English. They exclusively date black men and will befriend black women in the hopes of meeting them. Most of their ideas of blacks come from American pop culture like hip-hop videos and
You Got Served.
And the "I wish I was black," isn't all that made up, as proof of this Mixi group: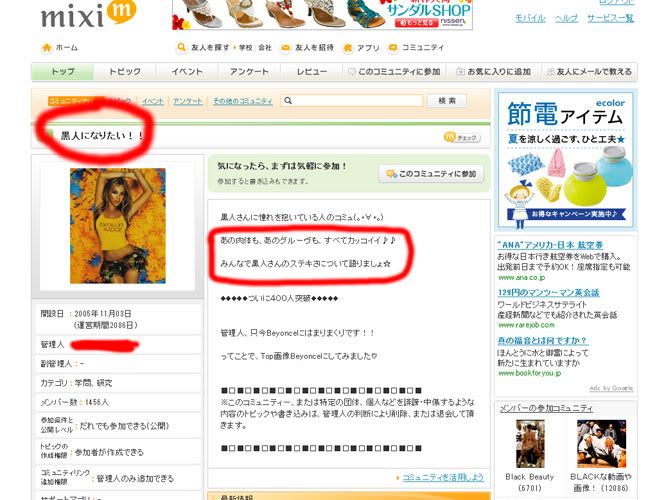 The title at the top roughly translates to "I Want to Be Black." The other highlight words are "They're muscles/bodies, they're groove, it's all cool!" and "Let's talk about how blacks are."
So when I watched the
VG vs FG
scene, it's clear to me that the scene is making fun of what those girls think black people are like. Like I said earlier the make-up and the whole scene is really over-the-top, but...have you seen the
trailer
for this movie?
Umm...yeah...Seems like the movie is making fun of a bunch of different subcultures in Japan as well as other "Japanese-y" things like school girls in uniforms and kimono. I'm not a total expert on Japan subcultures but given some context, I'm not as offended by this scene as I could be.
Barack and Michelle Obama
I'm not totally sure, but I think this scene is actually part of a seasonal Japanese variety show where "
tarento
" are separated into teams and have to impersonate some well-known people. The audience had to vote on which side did the best impersonations. I don't remember the name of the special, but I do remember seeing this while I was in Japan and I'm sure this show still happens. And this looks like a skit from the show:
I don't have issues with people that aren't black impersonating Obama. The people on this show actually impersonate others outside of Japan like the Chinese, Koreans, and white Americans. They've used tape on the eyes to make them more "slanty" for some Asian celebs or fake noses for some white ones. But seriously Japan have you not paid any attention to the president's skin tone? I could get fake ears, but there really was no need to put on the makeup here. You can pull off an Obama impression without rubbing a Hershey bar on your face. Hell, they've done it before!
Don't even get me started on Michelle. This one fails because it's just lazy, and the magic show and bad Japanese puns sucked.
Celebrities Become "Rappers" To Confused Their Pets
I've never seen this show before but spotted these clips on
Japan Probe
. According to JP, it's part of a show titled
Shimura Zoo
and the purpose of this segment is to see if a dog can tell who it's owner is even if they change their appearance. So in one segment, they take an actress and make her into a male rapper.
yo dawg
by peakfloods
A lot of Japanese variety shows have a sense of, "what is the point of this?" And this is another one of those times. It seems to me that the point of the experiment was to see if the dog could tell what the own looked like. Couldn't they have just given the actress a mask or a costume? Okay I did LOL a bit when the actress did the typewriter but the makeup and outfit really aren't needed for this experiment. And this was actually the second time they did this segment. Here's the first one:
yo yo facepalm yo
by marlowalls
A boombox? Really? Seriously why are they specifically rappers? It was clear that despite the blackface in the Obama video, the guy was supposed to be one specific person, Obama. But here they just have a generic idea of a "rapper." This isn't satire or parody, just stupid, casual racism.
The Gosperats
The Gosperats was a group made up of two groups RATS and STAR, and the Gospellers. RATS and STAR were a Japanese doo-wop group who were already performing in blackface.
I can't decide what I'm more pissed off at. The fact that they're in black face, or the fact that they're performing "What's Going On" as a Live Aid song in black face? Seriously who the fuck does that!? Again this was also around the time Kubota Toshi was getting his feet in the door and he was able to make music without having to do it in blackface. And don't be fooled but the trumpet player (Nobuyoshi Kuwano) who's not wearing makeup. He seems to have a thing for being the only member in a group not in blackface:
Three Bicrees perform Motown hits from groups like The Supreme and The Jackson 5.
But it gets worse. In the mid 2000s they teamed up with R&B/acapellea group The Gospellers (who are often called "Japanese Boyz II Men" because of their harmony and music) to create the Gosperats.
For real? There's even a little black kid in the video! Again I'm really bothered by this because both groups really should know better. They've made a living off "black music" and here they are in blackface. I'm sure they think they're paying hommage, but hello, hommage doesn't need face paint. Case in point:
That's COLOR/DEEP by the way. Groups like them, Skoop on Somebody, Kubota Toshi, Hirai Ken, Chemistry, MISIA, DOUBLE, AI, Daichi Miura, etc. can all make good R&B music without face paint. I was a pretty big fan of the Gospellers until they joined in on the blackface. That was it for me.
So the Gosperats take the cake for me. There are actually other instances of blackface in Japan, but these were the more recent ones that I saw popping up. Despite these silly stuff I know that not all Japanese people are running around in blackface or ever thinks it's okay. While I think sometimes blackface is out of pure ignorace or satire, other times it's clear that they should know what they're doing is a hot mess. Japan has a rather complex history with blacks and Hateya over and The Blasian Narrative has put together a
series of blog posts about it
which I encourage you all to read.
And for those of you that plan on visiting Japan or living there, I'm not trying to scare you away from doing so. Just remember that you can potentially see stuff like this. I just wanted to show y'all that even though you can appreciate some cool things in Japan just remember that not everything happening there is super awesome.