Because He Needs Some Love: Chad Hugo
When we think of Asians in Hip-hop or R&B, I'm sure the people that come to mind nowadays is rapper Jin, crooner Bruno Mars, and perhaps The Far East Movement. But there's another Asian-American who has been a driving force in the hip-hop and R&B community, helping to create some of the hottest beats out there: Chad Hugo.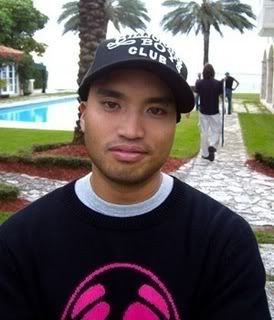 Chad is one half of the group The Neptunes, along with Pharrell Williams and his strangely shaped head. He's also a member of N.E.R.D. with Pharrell and Shay Haley. According to
Wiki
, Chad--who's Filipino American--met Pharrell at the age of 12. The two become fast friends and in later years began making beats. Although Rump Shaker is considered to be William's big break in 1993, it wasn't until 1994 that both Hugo and Williams received credit for the input. It was for BLACKstreet's "Tonight's The Night" with SWV and Tammy Lucas:
In the 90s, The Neptunes were behind some of hip-hop and R&B's most popular songs. Like Noreaga's "Super Thug:"
And who can forget Kelis's "Caught Out There:"
The song was crazy the video was crazy and the beat was crazy!
Throughout the 90s the worked with other great artists like SWV, Brand Nubians, MC Lyte, and Total.
In the 00's The Neptunes didn't lose any steam. The broke from the hip-hop and R&B tip when they worked with (lucid) Britney Spears for "Slave 4 U"
Seriously anyone who doesn't think this is a hot track is lying (and probably lying about once having at least one MC Hammer album too but I digress). "Change Clothes" was a big Jay-Z hit that was also done by the Neptunes:
They even expanded into the Japanese market, working with hip-hop group The Teriyaki Boyz to do a track or two including, "ZOCK ON!":
Angie Stone, Ludacris, Sade, Brian McKnight, Busta Rhymes, Joe, their production roster for R&B and hip-hop artists continues to grow even into this year. They also had other stints with pop artists. Like "Slave 4 U" I was hearing "Girlfriend" by 'NSync all over the place:
One thing you may have noticed is that the music or sometime the writing of these popular songs is credited to The Neptunes, and you'll occasionally spot Pharrell in the videos, sometimes adding a verse of two. In other case he's just...well there. So where the heck is Chad?
Despite the work he's done as a member of the Neptunes, he's a pretty low person. In fact, the only time we really see a whole lot of Chad was when the N.E.R.D. released their video for the song "She Wants to Move."
Of course quite a few people have noticed Chad's incognito-ness. In a
2007 interview
Chad revealed that he wouldn't mind being in the spotlight just a bit more:
"I used to think that being in the back was cool and it is cool. But nah, you've gotta get recognized."
Chad has other sides to him that I was able to find with the help of good ol' Youtube! Here's a rather hilarious video him freestyling:
There's also a video of him showing his "real" side as he shows off his house and his wife and daughter:
But for Chad it's all about the music. Here's a video of him fooling around in his home studio:
Although Chad continues to be an integral part of both the Neptunes and N.E.R.D., he's also branched out on his own a few times. Recently Chad worked on Beyonce's "4" album and also created a DJ team named Missile Command with Hip-hop Dan, a DJ from Washington D.C. He's also slated to work with David Guetta and singer Kenna with their upcoming projects.
As a fan of The Neptunes, I've got respect for Chad. He's been int he game for a while and doesn't need the ego that goes along with it. He seems like a very down to earth person who was able to turn his passion into something big. I'm looking forward to hearing new stuff from him. The Neptunes, and N.E.R.D. soon!