Can Jay Win Toccara's Heart?
I recently watched a trailer for the second season of
The Ultimate Merger
. For those of you that don't know,
The Ultimate Merger
is essentially a black version of
The Bachelorette
. Sponsored by Donald Trump--because we all know he has a good relationship with "the blacks"--and airing on TVOne, the show features one female "celebrity" and men vying for her love. I use "celebrity" loosely because the first season had everyone's favorite villain Omorosa, known for her antics on Trump's
The Apprentice
and her spats with Wendy Williams. This time around, it's Toccara, the voluptuous outgoing contestant from season 3 of
America's Next Top Model
. Tocarra is considered to be one of the more successful people from ANTM. Not only has she done tons of modeling (including appearing in
Essence
magazine and
Vogue Italia's
first "black" issue), she's hosted TV shows and red carpet events. I have to say Toccara, despite her somewhat annoying voice, is one of my fave contestants to appear on ANTM, so when I heard about her being on
The Ultimate Merger
, I decided to check out the trailer.
As I watched the trailer, I did a double take (Click
here
in case vid doesn't work):
Was that an Asian guy in the mix? Indeed it was.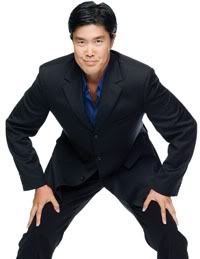 His name is Jay (Lee). According to his
mini bio
on TVOne, he's Korean, 36, and a tennis instructor. Here's his
video
:
In an article in the
Palm Beach Post,
Jay says he's very big on competing and wanting to win. However he also says that things are a bit different when it comes to a reality TV show on dating: "It's not as much about winning as it is about (being) compatible. I don't look at a person as an object. It's more about building a relationship."
Jay seems like a nice enough guy and from the comments on his TVOne page, it looks like quite a few people are rooting for him (LOL or claiming him for themselves). Some of the comments are from people that claim to know him, but it's the internet so we'll never really know. He doesn't get much screen time in the trailer; I assume it's because he's probably not one of the crazy ass attention whores you often find on these shows. But it may also allude to the fact that he's not the show for long. But who knows, he might be the quiet type that sweeps Toccara off her feet.
Jay isn't the first Asian man to vie for a black woman's attention on TV. Quite a few people were shocked when Tom Lo made his appearance on Sandra Denton (aka Pepa from Salt N Pepa)'s TV show,
Let's Talk About Pep
.
In the end, Pep chose to be with Tom. I'm not sure if they're still together (after all it is a romance created from a TV show), but they did maintain enough romance to appear in public a few times.
Since I have the broke folks's cable package, I don't have TVOne and will miss the show (LOL honestly I'm more upset that I can't watch
A Different World
and
Half and Half
; only BET and Centric are in my package). Honestly I'm not sure if I would make my way through this entire show becauseI'm not a fan of the romance reality show types. Regardless of my overall feelings for the show I think the fact that Jay is on this show--and Tom was on Pepa's show--is still pretty important for blasian relations for a few reasons.
For one, these shows are from the perspective of black women and here we have Asian men pursing them. Many black women assume Asian men wouldn't be interested in them, but these guys had the balls to go after women they wanted, on national TV. It's not that shocking to see white men on going for black women on these type of shows. Black/white couples are the "default" interracial relationship. So people get thrown off when there's someone else in the mix like a Korean or Middle Eastern or Mexican man. Jay actually has more comments on his single page than any of the white men (and the second more comments of all the contestants) and like I said, people are rooting for him. I'm sure Jay knows by putting himself out there that he may be subjected to a bunch of shit based off his race, but that didn't stop him from being on this show. I admit I haven't seen much of The Bachelorette but I check out enough Asian blogs to know that given the number of seasons the show has had, their haven't been many--or any--Asian men on the show. An Asian guy makes it on Pepa's only season and another one makes it on the second season of
The Ultimate Merger.
Another aspect on the side of the women is that both Toccara and Pepa are beautiful women, but they're not stick-thin and young. Toccara is 30 and Pepa is over 41. I already mentioned that Jay is 36 and Tom is probably around Pepa's age. Granted none of these ages are "old" but as a women who's 30 myself, I like the idea of seeing blasian couples that are around my age (LOL sorry younger folks). And honestly how many women on these dating shows do you see that are over a size 4? LOL okay, I'll give you
For The Love of Ray J
and
Flavor of Love
but those were both a hot mess.
The Ultimate Merger
strives to be more similar to
The Bachelorette
than those shows which has featured a bevy of skinny white women.
For the guys, it puts more Asian men on the radar of black women. Now I'm not saying you can't expect a flock of black women to come running up to you and saying, "OMG! I saw Pepa hook up with that Asian dude and Asians are totally hot now!" But I'm sure it opened the mind of some black women. LOL I have to admit that I didn't think Tom was cute at all, but his sense of confidence and charisma made him sexy. The man had game! I think Jay is better looking than Tom, but we'll have to see how he acts once he's with Toccara.I hope that they show him as a well-rounded person, showing his good and bad sides to remind black women that us, Asian men are still men and come in more than one dimension.
Of course the idea of trying to find love on a TV show is a pretty wacky idea, and few TV couples actually stay together. I'm sure most of what happens on
The Ultimate Merger
will be drama, drama, drama from the guys and Toccara. But hey it is reality TV after all. The show will start airing on Thursday at 9:00 on TVOne. For those that don't have broke folks cable, lemme know how things works out.