ShaSha Meets CHEMISTRY
riginally I was gonna do a Shen and ShaSha about our experiences at Otakon over last weekend. But I had such an exciting moment that I needed to blog about this instead.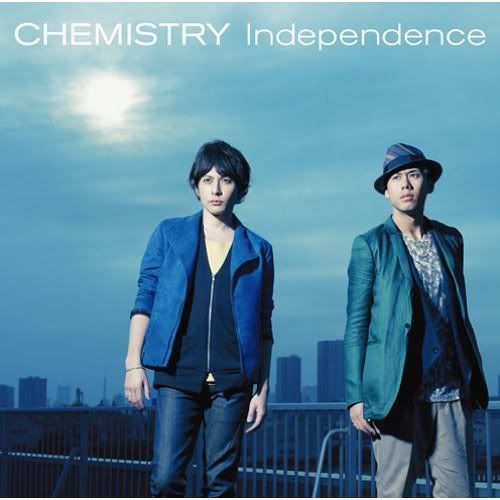 Yes, I'm talking about this CHEMISTRY. I've mentioned them a few times on my blog, but I'm a long time fan. And I had the opportunity to do some that many people don't get to do with their favorite music artists: I got hugs from them.
Haha I'm sure this sounds cheesy to some of y'all but ya'll just don't understand my excitement over this even days later. This has been a dream of mine, even when I was in Japan. So for me this is a big deal. The story here is long so I tried to break it up a bit. But here goes:
Mini Intro to CHEMISTRY
Chemistry in their early days.
The group was formed from a television show similar to American Idol called ASAYAN. In 2000, Yoshikuni Douchin and Kaname Kawabata were selected to formed the group CHEMISTRY beating out fellow competitors like Atsushi and Nesmith (who later joined EXILE). Douchin (left) is the more quiet member of the group. He's a self-proclaimed gamer and baseball fan. He's dabbled in acting as well, appearing in movies, and on stage. Kawabata (right) is much more outgoing and usually wears a hat on his head. LOL clearly he's had his "thugabee" moments, but is a huge fan of American R&B artists like Ne-Yo and Chris Brown (I know y'all...I know). He enjoys working out but also likes manga as well, particularly
Dragonball
and
One Piece
. Their first album,
The Way We Are
sold over 1 million copies and this was followed up with the release of their second album,
SECOND TO NONE.
Note: In Japan a selling over 100,000 is pretty big news so selling a million make you a bonafide star. Over the years they've released over 30 singles and 13 albums, including a remix album and a collaboration album. They've also worked with a few American artists like Babyface and John Legend. Last year they added the 4-member dance unit Synergy to their lineup.Their next release will be for "Independence" and will be out this month.
ShaSha's Obsession with CHEMISTRY
I first discovered the group around 2001 after the release of their second single "Point of No Return." Here's the video:
I was still in my early J-music fandom and only new a few artist then like Hirai Ken, Utada Hikaru, and Hamasaki Ayumi. I fell in love with their music instantly. When I got to Japan, I was able to fully indulge in my Chemistry fandom, buying magazines, CDs and DVDs. I watched TV shows they appeared on and became an official fan club member. In 2006 I shelled out about $60 to snag last minute seats to their
Fo(u)r
tour. They weren't the best seats but I could see them from the stage. Months later, a famous club in Japan named Velfarre was closing and I managed to get a great spot on the floor to watch CHEMISTRY perform (Skoop on Somebody, another R&B group that I love, was there was well). When I returned to the states, I continued to by CDs, DVDs, and magazines from time to time, while keeping up with them on their websites and other sites like Mixi, TokyoHive, Jpop Central, and Oricon.
So when I heard CHEMISTRY was finally making their way to the states I nearly shit my pants. I didn't hesitate to make plans to attend Otakon. Shen, being the super awesome boyfriend he is, knew that I was a big CHEMISTRY fan, and offered to go to
Otakon
, one of the biggest anime cons in the states, with me.
The Concert and Autograph Signing
It wasn't until Friday morning at Otakon that it hit me that once again I would be seeing Chemistry live. Hours before the concert, I could barely sit still and needed to keep my mind cool. Otakon had a room filled with dealers so fans could buy merchandise. It didn't take me long to find a booth selling items from Chemistry's last concert tour in Japan which celebrated their 10th anniversary this year. These type of items are pretty rare, especially outside of Japan. Amongst the items, I spotted a photo book collection. I had one in my hand in a matter of minutes and made my way to go stand in line to wait for the concert. There was about 4 hours before the concert would start and people were already in line! I joined them, book in tow. I passed the time by drawing, and making new friends. Shen arrived a little late because he had a business meeting to attend but he managed to slip in line with me thanks for my new friends (LOL who also slipped in a person).
We all ended up second row center to the stage, trying to stay patient. Then the lights went down and the screaming began. There was CHEMISTRY, along with their 4-member backup dance group synergy. They broke into song and dance, singing anime related songs like "
Wings of Words
," and "
This Night
." They also pulled out "
Go Alone
," "
Shawty
" and their latest single, "
Independence
." At some points of the performance, they pulled out sheets of people to say a few words in English, which the audience ate up. They admitted to being surprised that Americans loved anime so much and that they had so many fans in the states.
After the concert Shen, my new friends, and I made a mad dance across the convention center to get to an autograph signing. I pulled out the CD/DVD 10th anniversary set I'd brought to be signed. Then Shen gave me the idea of having both the book and CD signed as he stood in line with me. I gave him the CDs set and held on to the book.
My heart was thumping as I got closer to them. In my head I was trying to figure out what to say to them in Japanese, practing, "I'm a big fan, I've seen you perform a few times! You're tattos are cool (to Kawabata)" over and over. I finally got to Douchin, blurted out my words as he signed my photobook. He gave a quick nod, and I just assumed that he didn't hear me. I moved to Kawabata and gave the tatto remark. I was standing next to one of their staff members who for some inexplicable reason repeated what I said at a high picthed voice. I'm sure he was mocking me, but I was too excited to turn and bitch-slap his ass. Shen got the CD booklet for me. Shen and I went home with me still on a high from the night's events.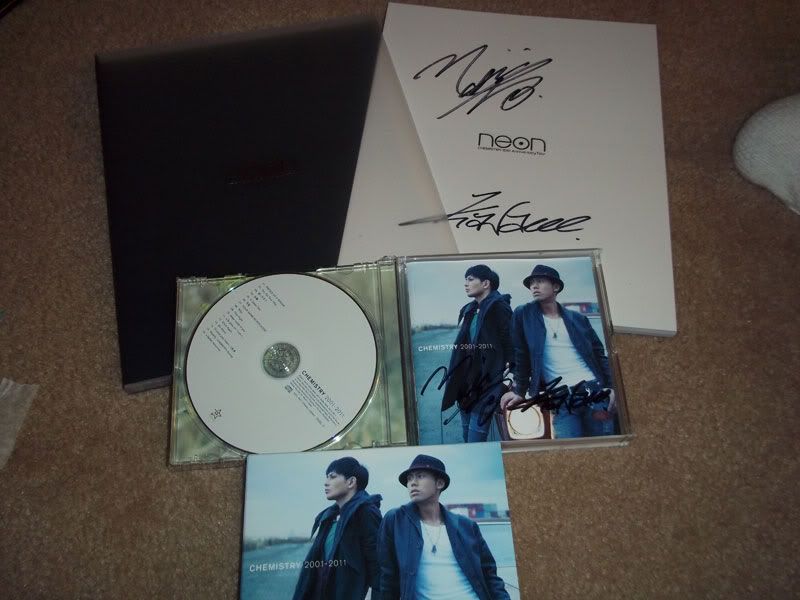 My autographed CD and photo book
The Interview/Q&A
The following day, Shen and I returned to Otakon. The original plan was just to go to the dealers room and take pictures of people in costumes. However, I knew there was a CHEMISTRY interview/Q&A happening. Throughout the morning, I debated going to the Q&A thinking it would be too crowded for me to get in. Just when I was about to decide against going, Shen said we should try anyway. Sure enough there were spots available. I'd missed the early part of the interview, but my ears perked up when it was time for the audience to asked questions. I kept my composer as I made my way to the microphone.
One girl asked for a hug which they surprisingly obliged to, but any other request for hugs were shot down, as well as any on the spot song request. Most of the questions were about them returning to America. There was a question about their feelings with working with other artists like Crystal Kay and Namie Amuro, which they enjoyed. Finally it came to me.
I told them about the times I'd seen them in Japan, which was greeted with genuine surprised on both their parts. I quickly explained that I'd lived in Japan which made it easy for me to go see them. Finally I asked them what they felt had been the biggest change for them comparing their early and later videos/music/looks/styles, etc.They both seemed to ponder the question for a second, and they received laughs when they turned to look at their videos which were playing on screens next to the stage. Douchin answered with "We started at the Point of No Return, and are back at the point of no return."
Just before the time was up, there was a trivia contest for people to not only win signed promo posters, but also hugs for each member. The first question was about a specific Gundam OVA
titled
Gundam Unicorn
and the ending song. No hands went up.
Except mine.
I didn't know if it was the right answer, but I replied with "
merry-go-round
."
I didn't even know anything about the Gundamn show, but I knew that "merry-go-round" was a limited release. "Wings of Words" had been the only other song they'd done for a Gundam show so I took a shot at it.
And I was right.
My crazy ass went running up to the stage in a fit of Japanese words streaming out my mouth. LOL don't worry I calmed down by the time I got to the stage. Anyway, before Douchin gave me a hug, he told me that my Japanese was good. Personally I think my Japanese sounds a hot mess at times, but at that moment, the fact that he looked at me with a smile and said that is all I cared about. I gave both him and Kawabata, slightly awkward hugs,. They're both so damn small I thought I would break them! Anyway I jumped off the stage and ran screaming back to my seat. Shen, again knowing how much I liked Chemistry, was equally excited for me too. I got some "congrats" as well all left after the session was over and some were a bit on the snarky side. But I didn't give a fuck! I left Otakon with three autographed items, hugs from my favorite Japanese R&B group and memories that would last forever!
My autographed poster!