Japan Loves Boyz II Men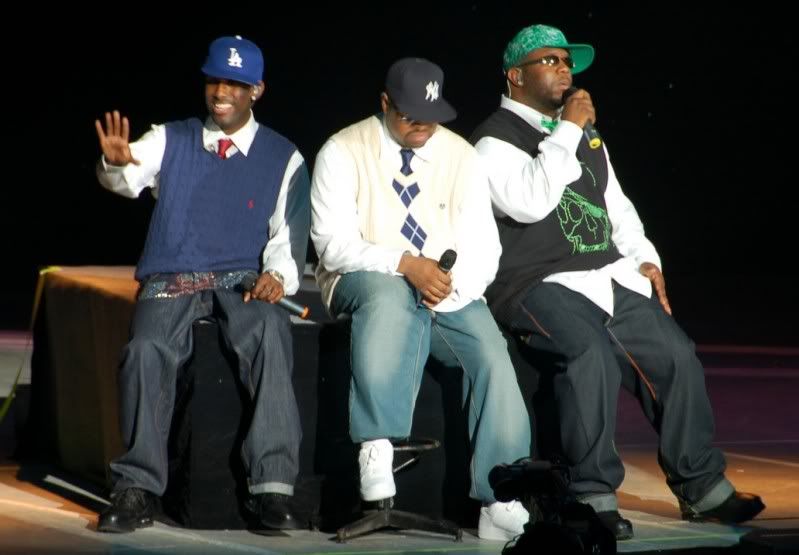 This year marks the 20th anniversary of
Boyz II Men
and the release of their 2 CD-set album,
TWENTY
. When I first heard this, I was like, "Damn has it really been 20 years!" Seriously, "Motownphilly" and "So Hard to Say Goodbye" are frequently popping up on my MP3 playlist. It's too bad the we hit the end of the R&B boyband era in the states because Boyz II Men was one of the most vocally talented groups out there. I don't need to give an into to these guys because if you don't know them, slap yourself! But what many people don't know is that although Boyz II Men have lost steam in the states, they are actually still quite popular in Japan. So here's a look at some collaboration and cover work between Boyz II Men and a few Japanese R&B artists.
Boyz II Men has heavily influence many artists, including quite a few Japanese R&B groups. One of the groups is DEEP (formerly known as COLOR). The quartet released their own version of Boyz II Men's "End of the Road," which they performed as part of their "BLUE" tour in 2007:
But things can go both ways. In 2005, Boyz II Men released
Winter/Reflections
in Japan, which featured covers of some popular Japanese songs from artists like Nakashima Mika, and EXILE. Here's Boyz II Men doing a cover of "Kimi wo Sageshiteta" by CHEMISTRY. The English title is "I've Been Searching":
And here's the original version:
And I have to bring up DEEP again because the group also released a song with Boyz II Men titled "Can We Fall in Love" which was featured on their
WHITE~Lovers on Canvas
in 2009. Boyz II Men and DEEP did make a video for the song, however it's been removed from YouTube and I don't know how to rip DVDs onto my computer, LOL. But I was able to find the audio for the song here:
But DEEP isn't the only group of folks who got the chance to collaborate with Boyz II Men. Atsushi from the group EXILE (who was also a member/producer of DEEP) appeared on two Boyz II Men albums. The first appearance was on the Japanese release of Boyz II Men's 2006 release of
The Remedy.
He added vocals to the track Muzak, which they all performed on the TV variety show, "Our Music 3":
And Atsushi made an appearance again on the
TWENTY
album, on the song, "End of the Day."
LOL, sadly Boyz II Men have yet to work with Hira Ken or Kubota Toshi. Let's hope to see them together int he future!
And even though I mostly focused on Japan here, I also have to make note of the Korean R&B group Soulstar, who I mentioned in a blog post before. They've covered several Boyz II Men songs such as "So Hard to Say Goodbye":
I got to listen to the
TWENTY
album and although Michael McCary's sexy bass voice was missing, the songs still feel like Boyz II Men. A good mix of funn music and baby making music. :) The did do new versions of their classics like "I'll Make Love to You," which I have to say I wasn't too keen on (because of Michael's voice no being present). But the original songs on the first CD were pretty good. So please check out the album today!