Exploring the "Black Lifestyle in Japan" Video
So I'm sure a lot of you have seen this video floating around on the internet.
The video has been making its way through black blogs sites and seems to have a mixed reactions. Some people think it's cool that young Japanese people have an interest in culture even if it through the aspects of hip-hop music. Others feel that Japanese people have no clue about black people at all. Watching the video gave me flashbacks of the time I spent in Shibuya. Ahh, the good old days! But I also found myself raising my eyebrows at a few things and in some parts found the video to be a bit misleading. And I wanted to discuss some of the more confusing things I found in the video. I'm not claiming to be an expert on this stuff, but I think the video needed a bit more context. So let's get to it!
Note: This will be an image and video heavy post!
1. The definition of "b-kei."
The video describes "b-kei" as "black lifestyle," however I believe it's really more specific than that. "B-kei" originally comes from "B-boy" and "style" and generally refers to fashion. To be more specific it refers to fashion styles related to hip-hop, R&B, and reggae culture. I have heard of "b-kei" meaning using the word "black" instead of "B-boy" but it still referred to hip-hop, reggae, and R&B in the fashion sense. American brands like Baby Phat and Rocawear fell under this category along with Japanese brands like ANAP and LB-03. B-kei people are often looking at the fashion being worn by artists like Rihanna, Beyonce, Ciara, or Alicia Keys as they would appear in now out-of-print magazines like
Woofin Girl
and
Luire
: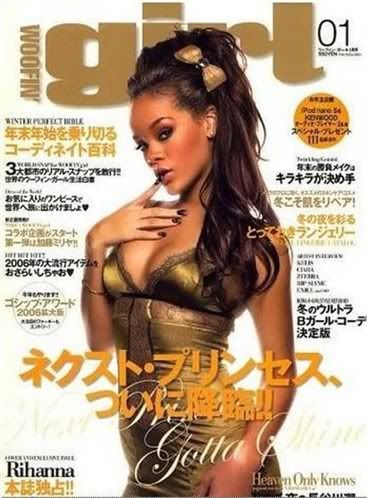 Rihanna on the cover of Woofin Girl magazine
And let's have a look at actual b-kei clothing. Hina, works at a store called
Baby Shoop
, who actually uses the motto "black for life." I actually went to this store a few times while I was shopping around
Shibuya 109
, mostly because I was amused at the idea of it and what their idea of the "black look" is. It's one of the few shops in all of Tokyo that consistently uses black models in their ads (but use employees on their online store site). While a lot of the clothes are a serious case of trying to hard:
A lot of the other clothes are just plain shit you can find at any store. Case in point this
shirt
: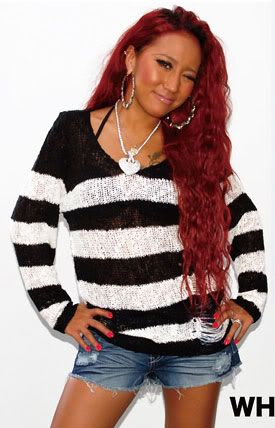 Is pretty similar to this shirt from popular
onee-kei
(adult women that that still follows gyaru styles) shop
Cecil Bebe
: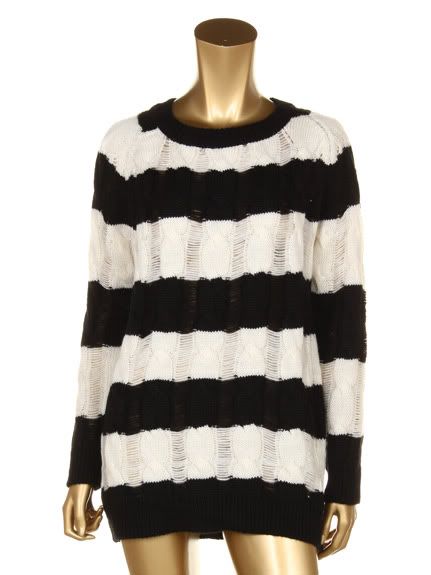 And another popular shop
Loves Girls Market
: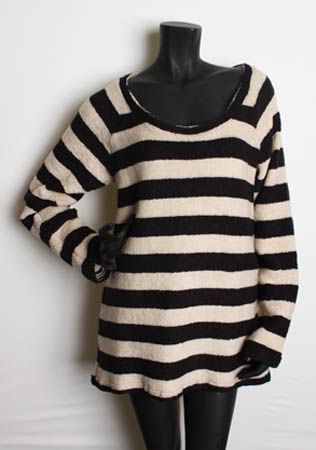 So it's not really clear was to what makes this shirt more "b-kei" then the shirts outside of the shop it's being sold at. I can see Beyonce or Rihanna wearing this shirt, sure, but I can also see a non-black person wearing this shirt as well. So the video doesn't really give a clear idea of what the b-kei fashion items are, but at the same time, the b-kei look is more varied then even those who like the style want to believe.
On the flipside, men's b-kei has a pretty standard look, which is supposed to be based off rappers like Kayne, Jay-Z, and Lil Wayne:
But apparently they forgot the memo on the way rappers have been dressing recently: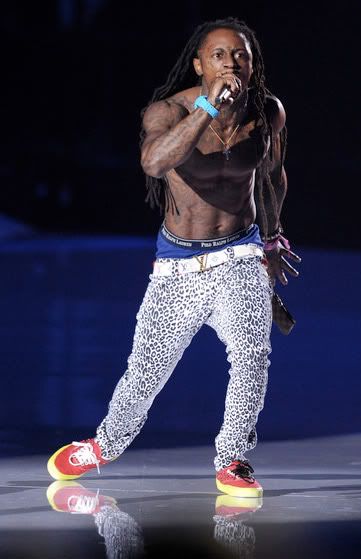 For real?
LOL okay, okay, we know a lot of American rappers don't rock the man jeggings like little wear or are still into the baggy ass pants look. But in terms of male b-kei they're still stuck on the above style.
2. A clear understanding of the how B-kei works in the larger realm of hip-hop, R&B, and reggae in Japan.
Although I get that this is supposed to be a short segment, I think it would have made sense for the video to give some insight on hip-hop and the like rather tan spending a so much time showing Hina tan--seriously, most people know how tanning works. We didn't need an interview with the guy that works at the salon. Anyway, as I've mentioned at various times on this site, Japan has known about hip-hop, reggae, and R&B for a good 20 years or so. Although these styles from both American and Japanese aren't as mainstream as they were a year ago, there's still a set fanbase for them. However b-kei itself is really just a part of that world. There are Japanese people that enjoy the same things as Hina, but aren't interested in the b-kei look at all. Just take a look at Japanese R&B artist Daichi Miura:
There are some exceptions though. Jero, rocked the b-kei look even though he's actually an enka singer:
Yep. That's a black guy singing enka. But not really the point of this blog post here. :P The point here is that there is a history behind to this stuff, and the segment should have put more effort into addressing it.
Furthermore, I didn't expect the video to cover this area, but despite the fact that people into b-kei think blacks are cool, they do get that what they like is specifically coming from black rappers, singers, and the like. What they see rappers doing in videos is pretty what they think rappers do, not what black as a whole do. Japan definitely isn't the well verse black culture and community. Hell we still see
cases of blackface
on Japanese TV. But most b-kei people have an understanding that albeit their idols are black, they get that Halle Berry and Denzel Washington are not the same as Nicki Minaj and Rick Ross. Honestly I don't think they really even care about people like Will Smith unless he's in
Woofin
magazine. Of course the majority of Japanese people are learning about blacks through pop culture, so yes they probably wouldn't know who Ludacris is before they'll know who Marcus Garvey is, and that is a much larger problem dealing with how much access Japanese people actually have to blacks outside of a music video. Ironically, I'll say the people with a more ignorant view of what blacks are like are people that have little interest in b-kei and the like. I doubt anyone in b-kei culture had anything to do with the stuff made in this video:
Unless you really put yourself in the world of b-kei (like going to certain clubs, making friends with them, dancing, buying Luire magainze, etc), I think it's safe to say that when you visit Tokyo you really won't be bombarded by b-kei lovers expecting you to shuck and jive for them. Hell, if a Japanese person approaches you and asks you if you carry a gun, it's more likely because you're
American
and not because you're black. At any rate, there is a fair amount of ignorance coming from b-kei because they can be narrow-minded in what they like, but they still have enough common sense to know that not all blacks are alike.
3. Tanning in B-kei culture.
Ahh yes, the more polarizing segment of the video is the scene with Hina getting a tan to "look blacker." Honestly I was bit thrown by this because this was the first time I'd seen tanning as a "must" for B-kei style. The video implies that white skin is still vary desirable with Japanese women, and I did see truth in that while I was there. I did see commercials for skin lightening cream, and remember some women under paraols at all times and others wearing special sleeves to protect their arms from the sun. However I also think the video makes it seems like the main people tanning are those into B-kei. The video should have noted that tanning certainly isn't new and is actually more apart of
gyaru culture
which is still popular (though the term of women and men in the gyaru culture tends to change). There is a specific style of gyaru known as B-binba and b-gyaru, which mixes general b-kei styles with general gyaru styles: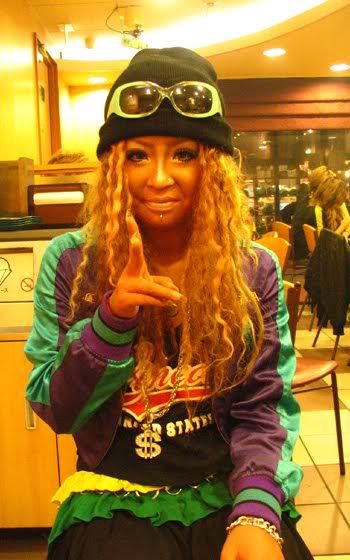 From here. She's got the hat AND the glasses!?
I'm sure there are people than happen to be into b-kei and are tan. Some of my friends that followed the style were tan do jobs (most of the were freetas) and outdoor sports, but didn't seem to be tanning just for the hell of it.
Now hair is a whole different story. I will say that's probably one of the more consistent things in B-kei that wasn't really addressed much in the video. It's not that difficult to find hair shops in Japan that will do black hairstyles like braids, afros and the like, and Japanese people pay a pretty penny for some of these ghetto faboluous looks:
Yeah, even I have to admit that shit is a hot nippon mess.
5. Explaining an "adventurous black night."
Seriously, I don't know what the fuck that means myself. Since Hina and her friend mentioned clubbing, I'm guessing this is considered a "adventurous black night." Actually I LOLed when I heard that. I honestly don't think I'd heard that phrase before. I don't remember my J-friends ever saying, "Hey, we're going out to have a black night tonight!" either. But this phrase is actually being said by the host and not Hina and her friend. Maybe they didn't have a better way to end the segment? Either way I think it just sounded silly to me. #shrugs
4. The debate over appropriation, blackface, mockery, and appreciation.
Of course a video like this is going to have a vary polarizing affect on people. Some people thought it was cool that Japan was looking up to blacks and saw this as a sign of flattery while other said this was blackface or mockery. I'm not sure that I would deem this as blackface or mockery though. Blackface has little to do with admiration as it's often used for laughs or in the case of say ... to fuel pity. I do think Hina really likes what she thinks is "black" culture. She doesn't see this as a
Halloween costume
and I certainly don't think she wants to be laughed at. And we don't know how if this is just a trend for her or something she will genuinely keep up with years from now. I do think this is probably a gross case a ignorance and misappropriation. For some people there's still a lack of understanding of how hip-hop, R&B, and reggae came to be and that there's more to it than a cute outfit in a video. More people into b-kei could spend some time learning about blacks through other avenues like reading something outside of
Word Up!
(though I do understand that resources in Japanese are limited compared to what's in English). But I don't think of this is blackface. I would like to have seen interviews with other people, especially blacks living in Japan that see this on a daily basis. Or if would have been nice to if Hina has been asked what else she really knows about black culture outside of
Source
magazine.
Well that's it. I commend Metropolis TV for discussing b-kei because it is one of the few Japanese subcultures that rarely gets discussed. Seems like EVERYONE knows about gothic lolita but are shocked to hear about seomthing like b-kei. I was pretty amused at the video, but wish they would have gone a little deeper. Granted I did put a generalization or two in there, I hope I cleared up a few of the things that can easily be seen as something crazier than it really is. And since I don't have a better way to end this blog post, here's a video of a blasian kid talking about his dreadlocks: