Because They Need Love...TV Chefs Edition!
Yay! First post of the year! So Shen and I are big on watching Cooking related things be it a how-to show to competitive shows to crazy shit Andrew Zimmern is eating. What can I say, it's totally fascinating to sit and watch people create things or eat stuff I'd never touch with a ten foot pole, like fish. Seriously, I really, really hate fish. It's a long story. :P Anyway, I decided to give a little spotlight to some of the chefs I enjoy watching on TV. And of course this is a blog about Black and Asian folks so I'm gonna give them some love today. Don't worry Alton Brown I still love you too! Anyway, let's take a look at a few chefs and there's a super delicious treat at the end...
Everyone's Favorite Iron Chef
Masaharu Morimoto
was an original member of the Japanese version of
Iron Chef
though he was a later addition to the show. He owns several restaurants in the states and has made appearances of many other shows such as
The Next Iron Chef, Top Chef
, and
Bizarre Foods with Andrew Zimmern
. He's also a regular on
Iron Chef America
. Of course he's my favorite on
Iron Chef America
. While a large chunk of it has to do with my irrational hate for Bobby Flay and the fact that Flay keeps beating Moritmoto, which I always call shenanigans on. It bugs the crap outta me that his voice is dubbed for American version
Iron Chef
though. Why didn't they just subtitled him or let him use Japanese? Food is international dammit! But I really just like watching him work. Like I said, I fuckin hate fish, but even I'd be interested in trying a fish dish from Morimoto. I always enjoy his presentations of food. I've seem him on other series and he genuinely seems like a nice good. And one a more shallow note, I think he's pretty attractive, LOL I blame the ponytail.
The Blasian Chef With An Inspiring Story
I actually came across Marja Vongerichten while watching an episode of
BPM
on MNET and she has a very
interesting history
. Long story short, Marja's father is black while her mother is Korean. After her mother left her, Marja was put up for adoption. She later found her mother in her adult life living the US. Marja and her husband, Chef Jean-Georges Vongerichten hosted the PBS series
Kimichi Chronicles
which is part cooking show, part South Korean travelogue, and part about Marja's person life experiences. The show is short though, only about 13 episodes, but I don't think we're done seeing Marja just yet.
Here are a few people that have regular how-to cooking shows:
Sunny Anderson
is mostly known for her TV show
Cooking For Real
where she dishes out one delicous meal after another, but nothing too complicated. Besides CFR she hosts a show called
How'd That Get On My Plate?
and runs her own catering business. And she was a radio DJ! Despite her bubly name, Sunny isn't super bubbling thankfully. Got enough of that with Rachel Ray. She does some typical soul food treats but also has thrown in some Latin, and Asian recipes. Plus she likes to make a drink or two as well.
I know
Ming Tsai
has been a while for quite some time but I only recently started watching his show
Simply Ming
on WETA. Ming owns a few restaurants and also host the TV show
Ming's Quest
. He gets extra love for beating Bobby Flay on
Iron Chef
. Seriously y'all have no idea how much Bobby Flay annoys me! Anyway, back to Ming. I have to say I'm not to impressed with the way he gives instruction on how to make the dishes for his show but overall he's pleasant to watch. Not hard on the eyes either. I liked the scenes where he's in China at the food marts shopping and trying dishes there, I like the addition of those type of things to the typical how-to format.
The Neelys
are a pretty amusing couple to watch. The Neelys get points for being from my hometown. Interestingly it was Southern Fried Paula Deen that helped then get their TV show,
Down Home With The Neelys
. They later hosted the TV show
Road Tasted with the Neelys
. Like the others they own a restaurant or two in the Memphis area. At first I felt they were over the top with their massive amounts of flirting--we get you love each other! And sometimes I thought Gina Neely sounded like an airhead. But I grew to like them. The flirting is annoying but it's clear that they love each other and really enjoy I like some of their food and drink recipes...well I probably would if I got off my duff and bought one of their books.
The Top Chefs
Top Chef
has done a pretty goo job with having people of color compete though few of them have actually won the show. However since the list is a bit long to go through, I'll spotlight people from the
current season
of the show. Two of the contestants are Asian men: Paul Qui and Edward Lee.
Paul Qui
is classically trained executive Chef at Uchiko in Texas while the self-taught
Edward Lee
is a executive chef/partner at 610 Magnolia in Kentucky. Both Paul and Edward are strong contestants on the show, each having won several challenges. But I can't talk about this seasons of
Top Chef
without mentioning
Nyesha Arrington
. She is executive chef at Wilshire Restaurant in Cali. Although she was eliminated from Top Chef, she will have a chance to return to participate in the series finales if she is the winner of
Last Chance Kitchen
. This side series allows eliminated contestants to battle each other for a chance to return to
Top Chef
. So far, Nyesha is in the lead. Good luck to them all!
The Model Turned Top Chef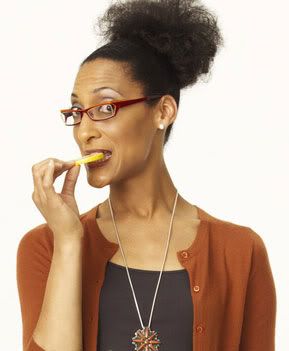 Carla is probably know for her appearance on
Top Chef
and her natural hair, but surprise surprise she was model before getting into the food biz. Carla appeared on both
Top Chef
and
Top Chef: All Stars
, but sadly was eliminated from both seasons. However she was a very memorable competitor even becoming the Fan Favorite winner. Since
Top Chef
, Carla has opened her own catering service but is also a hostess on the TV show,
The Chew
. Think of it as
The View
minus that annoying Hassleback chick. I can totally see Carla getting her own show pretty show; I'd definitely watch!
The Guy Who REALLY REALLY Should Be On TV
Shallow Moment...coming...NOW!!!
I posted a video of this guy on my blog before, but I never though too much about him outside of the fact that I thought he was damn hot and could cook. Well good Old Google helped me find out that this guy--who's name is
Ronnie Woo
--is actually a model. LOL man what is it with all the models-turned-chefs!? Anyway, I found his
Delicous Cook
site, where he posts recipes and videos. Keep up with his site ladies, he'll start having cooking classes soon! Although Ronnie has been walking runways and getting print work, his cook show is only on YouTube. Shit, I might have to start a petition to get this guy on TV. See how if you can actually pay attention to the recipe and not anything else, LOL.
Those chicken wings do look good and the recipe is on
his site
. Okay, all this talk about chefs and food has made me hunrgy. I need to go eat!