The Adventures of Shen and ShaSha: When Geeks Collide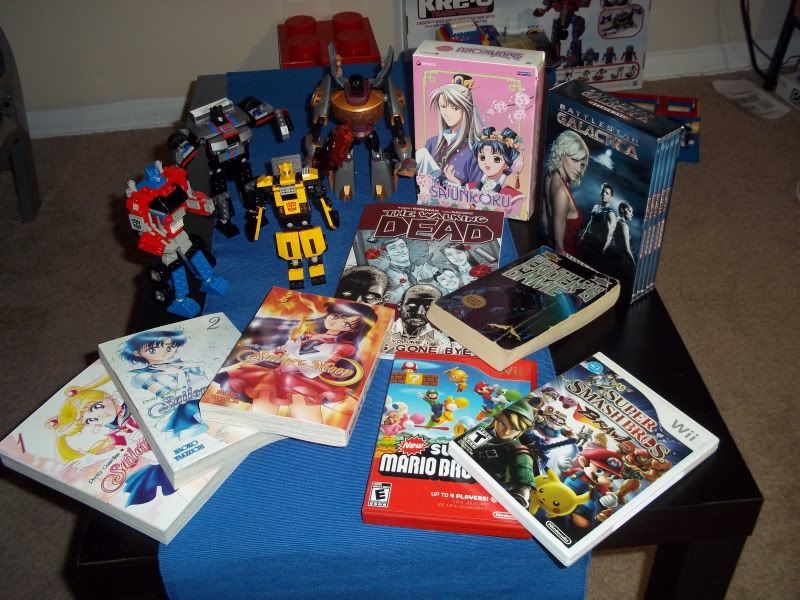 This is just a small portion of the geeky shit we have laying about in our apartment
So Shen and I have what I like to call geek-like tendencies. I've been an anime/manga fan for about 13 years now though I have hit the "Anime today is just terrible things in the 90s and early '00s was SO MUCH BETTER!" phase of fandom. But I also enjoy a good sci-fi book or movie, playing a video game every now and then and checking out new technology. I'm also an avid roller coaster fan, I know way too much about them. Shen's geekiness is more of the sci-fi variety with him being a fan of stuff like
Star Wars, Battlestar Gallactica, Stargate
, and what not. Though he's also a huge fan of
Transformers
and
Harry Potter
. I say "geek-like" tendencies, because we do enjoy these things and we do have a fair amount of knowledge of them but we have a ton of other general interests that don't fit into the standard idea of geeks--Shen is a huge college sports fan and I'm addicted to reality TV for example.
It's funny because Shen is probably the first man I've been with that has GLT. When I first got into anime, I wanted to meet and date men who liked it. Unfortunately geek culture in general has a nasty tracks for its lax ideas on racism and sexism, and I found myself constantly being challenged for liking said things due to my race and gender. In other case the only thing I had in commons with the guy was say anime. One guy seem completely horrified that I liked going dancing or shopping and...well not staying in my house all the damn time. Sadly I am pulling the experience card here--yes, feel free to call me a hypocrite--so I shut myself out of geek culture when it came to dating. Men who were not apart of geek culture were surprised that I liked such things, but didn't care too much about it. Since I did have other interests in things, we would talk about those instead; I like my geeking out for my girlfriends or online.
I didn't know Shen had GLT until I went to the house he shared with his brother and found
Star Wars
Lego sets and a pretty extensive collection of
Star Wars, Lord of the Ring,
and
Harry Potter
movies. He also revealed that he and his brother had been avid comic collectors in their younger days. Shen knew I liked anime, but it wasn't until I revealed the six storage bins of manga and DVDs that he got a full sense of how big of a fan I was. LOL he still has no clue about the anime posters I stashed in my art portfolio--the tape ruined the walls. :(
Transformers
. And I mean the 80s version, not those crappy Michael Bay shits. I suppose a large amount of this is to blame on The Hub and pure nostalgia. But we've had serious discussions about the show, debating whether or not Optimus Prime is actually a good leader or is Jazz and Blaster were supposed to be the "black"
Transformers
. We spent a few days on eBay searching for toys and eventually started collecting
Kre-O Transformers
, which is basically a Lego-like set that you can build
Transformers
in robot or car form. Hell we even have the
Transformers
Wiki bookmarked on each of our computers! Besides
Transformers
we enjoy a good game of Mario Kart or Super Mario Brothers (and DJ Hero 2) and of course
The Walking Dead
. We're slowing but surely making our way through the comics now. In my last blog I mentioned that I had bought a bucket of Legos for me and Shen to play with. Yeah, I really wasn't kidding: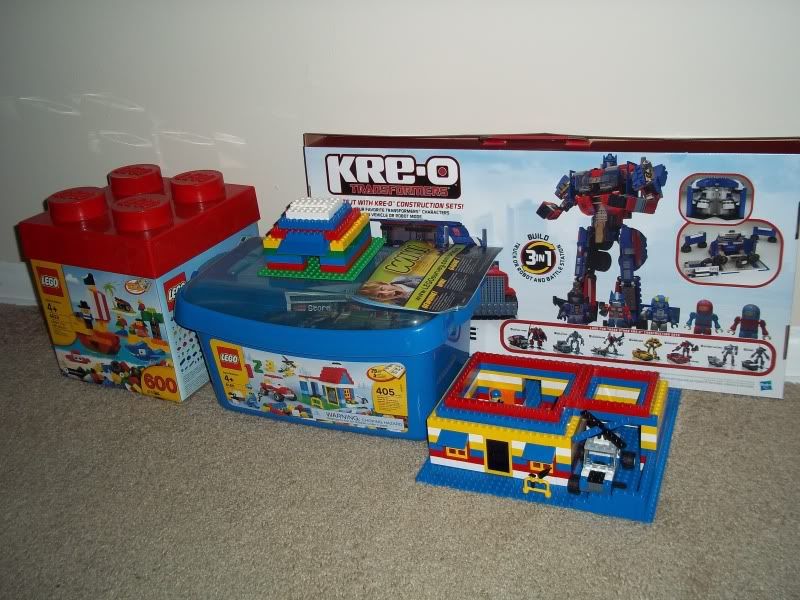 I built that little house.
But sometimes our GLT doesn't always flow that well. Like I said Shen is a big fan of Star Wars and Lord of the Rings, two things I'm not a fan of at all. Shen just insists that I don't understand what awesomeness is. However, Shen isn't a fan of anime outside of
Miyazaki
movies--we just went to go see
The Secret World of Arrietty
--and
Transformers
Headmasters
. I tried to get him to watch shows like
Trigun
and
Rurouni Kenshin
and he fell asleep on both of them! I haven't even bothered to get him to read any manga.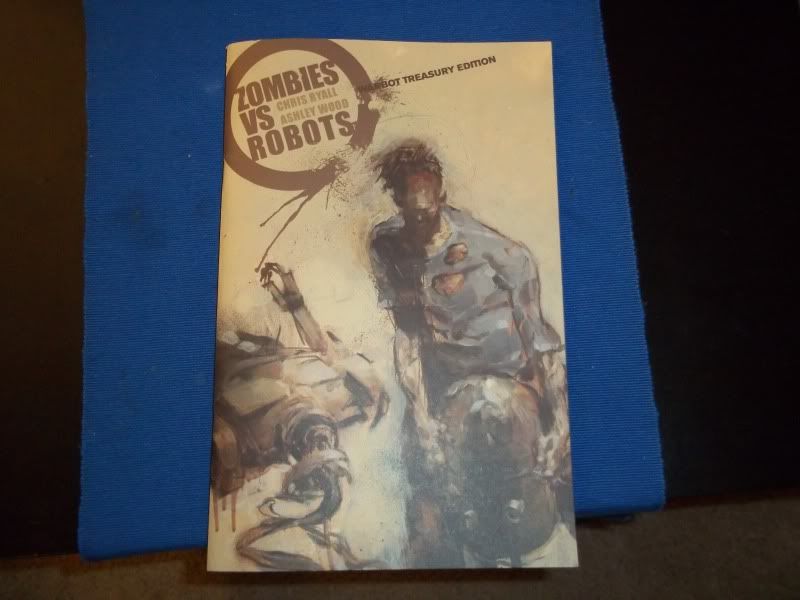 A recent comic book purchase by Shen.
Despite our non-interest in
Star Wars
and anime, we do find other ways to compromise. I'm pretty indifferent to the
Harry Potter
movies, but I know Shen loves them and the books. So I went with him to see the last two films and even paid extra to seem them in IMAX form. I know
The Hobbit
movie is coming out in the near future, and I'll probably go with him and will put a big effort into keeping my mouth shut when I go. Shen went with me to Otakon last year and didn't get upset at
me groping Chemistry
, LOL. But he did enjoy the other aspects of the con like the merchandise room and seeing the costumes. He even offered to go to Katsucon with me in February though we chose not to go because of other things we needed to do that weekend.
I was hesitate when it came to dating geeks or even people with GLT, it's one of the things I like most about Shen. LOL honestly I prefer GLT Shen to Sports-Watching Shen, that's a whole other blog post. >_< Although Shen isn't a fan of some of the things I like, he never puts me down for liking them or tries to force me into liking his activities, and I'm the same way with him. We're both open to trying things--him with trying
Trigun
and me with
Star Wars
(well
Star Wars: The Clone Wars
recently) and if these things don't peak our interest, that's the end of the conversation. We'll focus more on the geeky things we do have in common or even try other geeky things together.
Speaking on,
Transformers Prime
is on...time for me to head back to the TV.