Dating Asian Guys 101: Initial Contact
Man it's been quite a while since I've posted! It's been a long few weeks for me. I was sick earlier this week, then was dealing with some stress with work. Feeling much better now so I'm getting black to blogging.
So I've decided to write a series of blog posts about dating Asian men. Sorry, for the lame title, couldn't come up with anything witty. Yes I know I've been doing that already for the most part, but even I admit to being a bit vague and
blasé
sometimes when I write about it. And yes I know I'm not a relationship expert, a PUA, or even a wingwoman. I can fully understand any questioning my authority to write on such a topic--then again it seems you don't need to be an expert on anything to be declared a relationship expert nowadays (looking at you Patty Stanger and Steve Harvey). But I decided to write about for a few reasons.
Interracial dating is a big deal for a lot of people. Hell dating in general is a big deal for people. But it seems extra scary for some of those when we decide to step out out own racial pool and into another one. It's still amazing to me how easy it is to find some many blog post, Topix questions, or encounter women in everyday life that are still asking about Asian men and how to meet them, how to date them, etc. Our initial reaction is just to say "Men are men! Duh just talk to them like everyone else!" And I admit to having this attitude at time too. Indeed men are men, but there's still a fairly large gap in dating when it comes to black women and Asian men. But I figured what the hey and decided to humor a few folks with just giving some advice. #shrugs
I'm sure you're also wondering why I'm gearing this mostly at women and not the men as well. Well I thought about it for a while actually. I know it's not just black women Googling this stuff and have met Asian men asking some of the same questions as the women. Perhaps this is a bit of a cop-out, but the majority of what I'm writing is coming from my experience; those experience happen to be of me as a black woman and how Asian men have reacted to it.
So I like said above, this is going to be a series of posts. And I'm even breaking out my overpriced Wacom tablet to created images to go along with the posts. It's going to take me a while to get through these post because I want to put some thought into this. Please feel free to call me out on anything that doesn't sound write and any advice you have of your own (and helpful advice...stuff like "Asian guys don't date black women" will not fly on this blog, sorry). Anyway let's move on to Part One!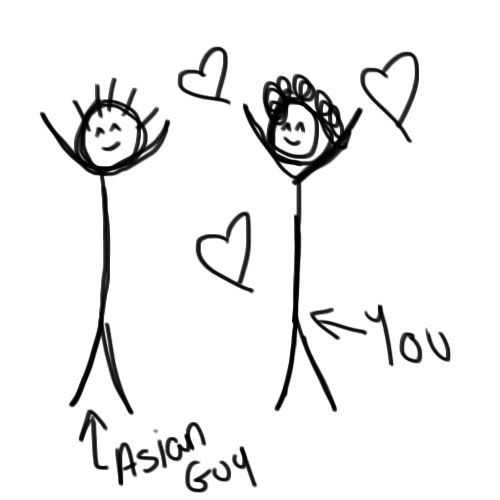 Finding Asian Men
When I wrote my
9 Responses to Complaints from Black Women Over Asian Men
post ast year, I was vague when I stated that you can find Asian men all over the place While I do think that there are Asian men all over the place, I won't say that they are always easy to find. So here I'll give some more specific suggestion on finding Asian men.
Attending professional events, and conferences.
Professional happy hours are a great way to meet people. And it's surprisingly easy to slip into a conversation with a group of people. You don't always have to speak up about things but making yourself visible and being interested in what people have to say can always help. And there's more than happy hours. Some professional groups like to do other cool things like scavenger hunts, sports, karaoke, etc. If you have some traveling money why not go to a conference? Again it's a good way to meet new people, not to mention to benefits to your own career.
Take you ass to colleges/universities and later go to alumni events.
For the younger ones, study your ass off for the SAT/ACT, get some scholarships and take your butt to college! It's a pretty great place to meet an Asian guy. They're on big campuses, little campuses, even HBCUs--stop laughing there are Asians that attend HBCUs. Unfortunately college is much like high school in the sense that it gets very cliche very fast, but not all Asians are roaming around in big packs together. And like professional events Alumni events are loading with all kinds of people from many different years. You may run into someone you saw on campus once or twice and now you can get their full attention.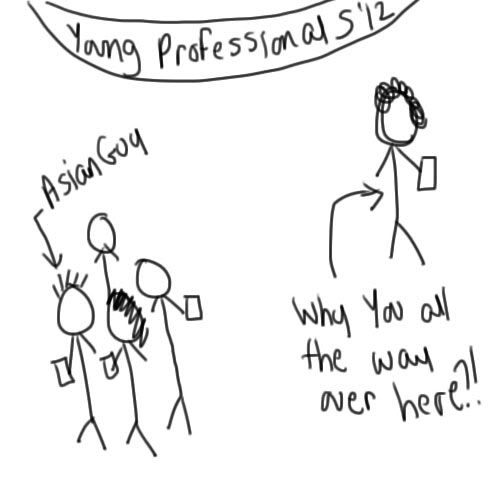 Check out Culturally Related Events.
Earlier I mentioned the cherry blossom festival in DC as a way to meet Asian men. I'll have to say that when it comes to the actuall street fair, you may not find a lot of single guys roaming around; it's mostly families, couples, and a few friends. However the cherry blossom events actually stretch over a few weeks with a lot of events--some that are completely free. Many cities have Asian embassies that also have events as well, you can try looking into those. And also keep in mind that you don't have to just attend Asian events to meet guys. There are Asian guys that do go all kinds of events from book fairs to carribbean festivals. Basically, get you ass out the house!
Try Something New.
So you've gone to all the professional happy hours and all the summer festivals and not an Asian guy in site. Well hey, sometimes you can meet people in the most random places doing the most random things. Find a groupon for a tennis lesson. You're a shitty artists but it doesn't matter, take an art class anyway. You can be daring and try speed dating.
There's Always The Internet.
I wrote about that a while ago so I'm being lazy here. Just read this:
The Wacky World of Blasian Love and Online Dating Sites
Move.
Okay, this is probably a "I'm really, really desperate!" thing here. LOL if you're super desperate, you can check the 2010 Census information to find out where are the Asian men are living. Generally I don't recommend anyone just up and move someplace where maybe they think they'll do better in the dating field. It's fucking expensive to move, you have to find new friends, get used to new locations, make sure you have a job, etc. But if you truly feel like your life where you're living now is going nowhere, then it's always an option. Please be prepared for doing such a thing do though and do some research.
Of course I'm giving all these suggestions, but make sure you keep your expectations in check, especially when it comes to going to events and what not. Choose something you already have an interest in doing and put more focus on having fun as opposed to meeting a man. That should be secondary. Sometimes an event might not be popping, but don't give up on all events as a result. Just try a new one instead.
Talking to Asian Men
So finding Asian guys is just the first step, but there has to be some, you know, actual conversation with them. This brings up the big debate over who should be making the moves: men or women? I hear both black women and Asian men complaining about the lack of approach coming from either side. Women are complaining that men aren't stepping up to the plate while some guys want women to take the lead.
Personally, I think it depends on who notices who first. Sometimes people are genuinely oblivious and may not notice you checking them out right off the bat. So I don't think there's anything wrong with putting yourself into their line of sight, joining in on their conversation (but make sure it's a "open" conversation so you're not just plain old butting in), or actually just saying "hi" and introducing yourself. I would apply this logic online as well. In many cases people don't know you're looking at there profile and hoping that they'll spend time to go through the "See who's checking you out" section can be futile. Before you approach make sure you have something to actually talk about though and that he looks open enough to approach. What I mean by the latter is if he's furiously texting and cursing, that probably isn't a good time to walk up and ask him about the weather.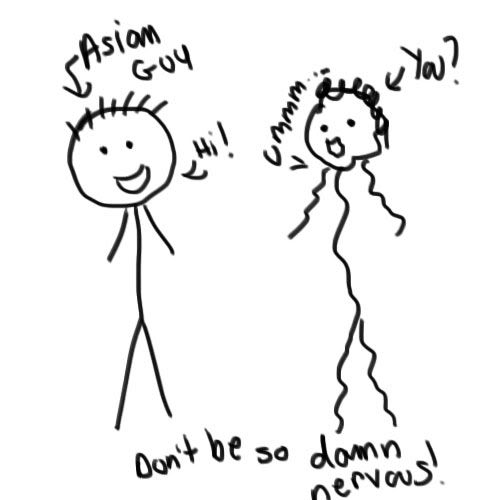 But I can't say that the ladies should always expect to make the first move. A cute Asian guy could start the conversation while you're sitting next to him on the bus. Or on the elevator, or while you're waiting for a drink order at a happy hour. He probably has the same fears you had about approaching, but was able to get over them to chat it up with you. So really both situations are plausible.
But once the conversation gets rolling, and you're feeling this guy, keep it rolling. It's important to remain calm. If you're too shy to tell him you think he's hot (LOL honestly I'd be impressed at any women that can do that since I don't have the boobs myself to do that), just keep the conversation light. Just stick with the standard questions, like "What do you like to do?" and the like. A good conversation will flow naturally and won't feel forced.
I know it's a tired idea, but seriously be confident! Confidence doesn't mean you have to be the loudest one in the bunch or the one who talks the most or uses the biggest gestures. Just having the right body language can make you standout. This article gives some pretty good tips on how to show your confidence without really even talking:
Non-Verbal Communication
What Not To Say To Asian Men
Just Like Some what I wrote to
Asian Men about what they should refrain from saying to black women
, black women can also think carefully before saying some things. Here are a few things that might not go over so well for people:
1. What are You/Where Are You From?
I already
wrote about this
but TL;DR: many people see it offensive to ask this ype of question. It "others" them and can imply that they are "foreign" even if their family has been here for generations. And "What Are You?" means you barely think of them as human! Of course not all people have an issues discussing their race/ethnicity, but I would suggest letting them bring it up first. Also, avoid guessing games our just outright assuming their ethnicity. It's just rude and tacky.
2. I love (enter "cool" Asian thing here)!
I'm going to get into this little later on, but I'll give a short version here. I know you mean these things because you want to impress him by how much you now about Asian culture, but be cautious about this. Don't assume he likes these things too because of his race/ethnicity. Guess what? A whole slew of Asian guys are fully aware of the non-Asian Asian pop culture freaks and some of them will completely shut down as soon as they hear these things. Yes it's possible to like these things and date Asian guys, but there are ways this can slip into a conversation later, not when you're still learning his first and last name.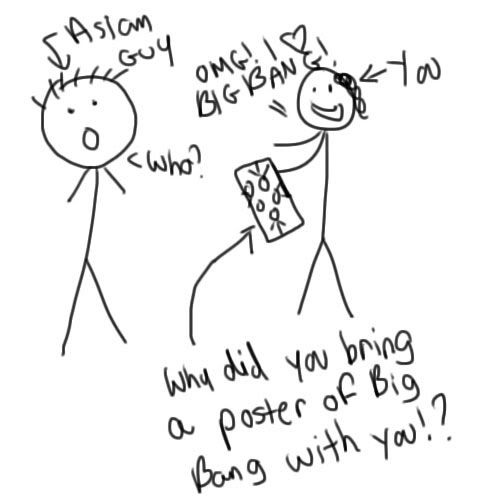 3. Can you teach me (enter Asian language here)?
See above. I'm sure some of y'all have fantasies of hot student teacher role play sex, but unless he's specifically a teacher or offering to teach you a language, don't ask.
4. I'm not the typical black girl.
It's like when Asian guys brag about not being the typical Asian guy. What the heck is a "typical black girl?" You're assuming that he knows what this means and that he has a very limited idea of black women. And it can lead into a awkward conversation with you explain to him what it means, and making yourself look like a damn fool.
5. Do you like black girls?
Like I said about men asking this questions, it can just lead to awkward conversation and can potentially make you look insecure. I understand that you want to know right off the bat--what's the point of going after a guy who's not attracted to black girls right? But really the question should be "do you like me" (in you head...get to know him before asking this). Because a lot of guys aren't as overt as others about their dating preferences and some of them may not even realize they have an interest in black women until meeting you. So let the focus be on you specifically and not black women in general. Well unless he comes out and says shit like, "yeah I don't like black girls but you're hot" then that's when you excuse yourself to "get a drink" and take your ass home.
Dealing With Embarrassing Situations
There may be some moments that the conversation can get awkward. Maybe you slip out the fact that you speak Korean, and he's confused since he just told you he was Filipino. In your head you're thinking, "shit does he think I think he's Korean even though he isn't? I fucked up!" Or maybe you spill some of your drink, or sneeze, or call him by the wrong name. There's nothing wrong with being embarrassed about any of these situations. However try to stay calm and keep the tears and "dammit I messed up" moments for later. Make light of the incident and let him join in on the fun. Hey could it ever start a hilarious conversation about embarrassing moments for the two of you. Don't go overboard with it though, no need to bring up whatever the incident is every five minutes. And don't let him continue to bring it up either.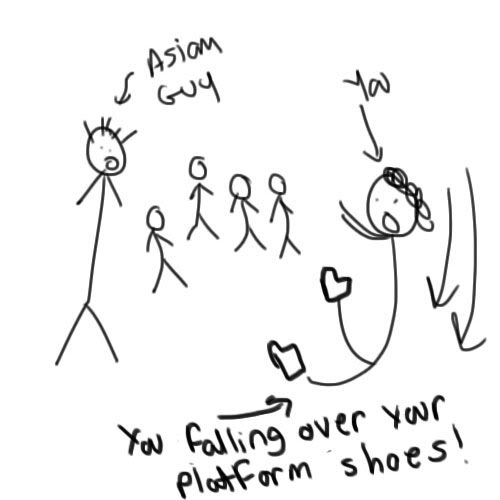 The Rejection or The Acceptance
So you finally decided to go out, and sure enough you meet an Asian men. The conversation is going great. Now all that's needed is to get those digits. Wow do people still say that, LOL. Anyway, This is like the who should approach who argument: should ask for contact info and who should call? I'm not gonna lie, I don't have a clue of how you should handle this situation. Sometimes people ask for contact info in the middle of the conversation, or sometimes at the end. There don't seem to be set rules for it. I think if there's an obvious spark between the two of you then go ahead and ask for info. He's probably thinking the same thing as well. Or he might beat you to it. Let's say there's no spark--he likes you but you're not feeling him. You might see him as friend material but not date material or you might be thinking it won't work out at all. If you still choose to exchange info, just make sure you don't lead him on. You don't need to blurt out, "hey I don't wanna date you...just saying," but subtlety mentioned that you're glad to make a new FRIEND or something.
But sometimes it's the other way around. You're the one that's into him, but for whatever reason he's not feeling you. He might not even want to exchange info at all. And of course that can make you feel ikt shit and get you down. Try not to let this happen. Not everything will work out in your favor. He just wasn't the right one for you. I suggest chalking it up to general experiences with talking to men and not to spend anytime wondering what's wrong with you that he didn't like you (or what's wrong with him for that matter).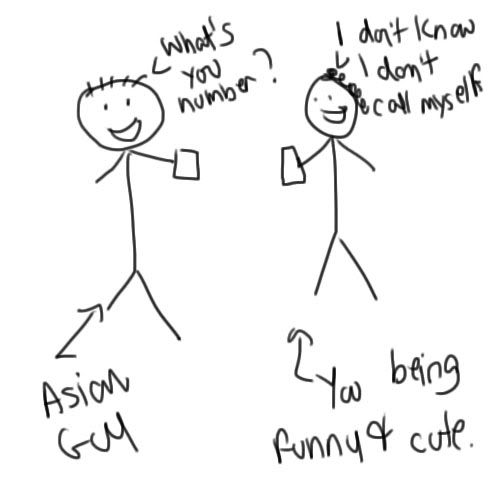 I wanted to add more to this post but it's pretty long as it is. So I'm stopping here. I'll cover a few more things next time around.