A Short Look At Japanese-American Music Collaborations
Indeed this is another music post!
A few weeks ago I found out that R&B/pop star
Crystal Kay is going to be working on with the Far East Movement for a world wide release
. Updated: A short version of the song has been loaded on YouTube:
Where the Wild Things Are.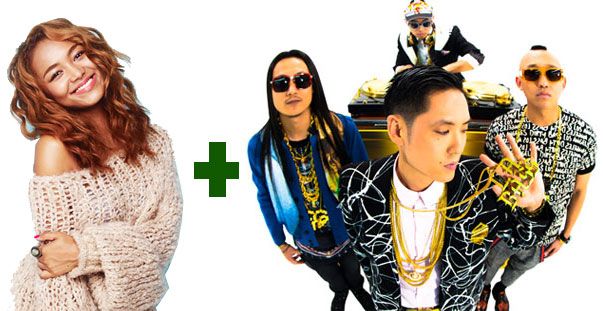 Japanese R&B/Pop star Crystal Kay meets Americ hip-hop/pop group Far East movement
I've already talked about both
Crystal Kay
and
Far East Movement
here. It's interesting because again, assuming that CK and FEM create a music video for their song, we'll see FEM using black (well in this case blasian) women in their videos. And CK has been hinting at making an international debut for the past 5 years, so let's see if this will give her an edge.
And that brings me to the point of this blog. The collaboration between Crystal Kay and the Far East Movement is actually one of the many connections Japanese and American artists have had. Many American rappers and R&B artists have worked with Japanese people, though the releases have only been for Japanese albums. So let's take a look at some of the collaborations that have happened over the past few years. I've already talked about the work that
Boyz II Men has done with both DEEP and Atsushi
From Exile, so let's take a look at some other artists that have gotten together.
The Teriyaki Boyz + Kanye West
The Teriyaki Boyz
was a hip-hop group that was made up of Verbal from m-flo, Illmari and Ryo-Z from Rip Slyme, rapper Wise, and Nigo, founder of the A Bathing Ape clothing line. The group made an American debut when their song "Fast and Furious" appeared in that godawful
Fast and Furious: Tokyo Drift
movie. Compared to many other Japanese hip-hop groups, Teriyaki Boys was heavy with their use of English as many of the member such as Wise and Verbal are English speakers. The group released three albums:
Beef or Chicken
(I'm serious that really is the title of their song),
Serious Japanese,
and a remix album titled
Delicious Japanese
. Their second heavy with collaborations from American artists. One of the notable songs is "I Still Love H.E.R." with features Kanye West. Kanye seemed like a pretty good match sine he seems to be a fan of Japanese culture. His "Stronger" video
was a homage to the movie Akira
and he employed artist
Takashi Murakami to create illustrations for his Graduation album
. "I Still Love Her" isn't the greatest Teriyaki Boyz song, but the video of them appearing on a "Fake" YouTube is kinda amusing.
The Teriyaki Boyz were also able to get some other big names to appear on their albums as well. The song "
Zock On!
" features Busta Rhymes and Pharell Willaims. And "
Work That
"--which is quite probably one of the laziest music video I've ever seen--features famous Twitter ranter and whiner Chris Brown with Pharrell making another appearance.
Full of Harmony + Teddy Riley
I was pretty excited when I heard that one of Japan's best R&B groups had teamed up with Teddy Riley. Teddy Riley is mostly known as a member of both Guy and Blackstreet and is a pretty accomplished songwriter. If you've listen to any music from Guy or Blacksteet, you can tell that this song screams Teddy Riley, especially when Teddy Riley himself breaks out the auto-tune in the video. Plus the members of Full of Harmony make a direct reference to Blackstreet's song, "Don't Leave Me."
Interestingly I have no idea who the black chick in the video is. Could never find out that info.This wasn't the first time that Full of Hamrony did a collaboration with an R&B artists. Jst ebfore they worked with Teddy Riley, they teamed up with Ne-Yo for the song "
Brand New Day
." Ne-Yo doesn' appear in the video on song for Brand New Day as he did most of the behind the scenes work. However there does appear to be a young black women in the video though there's little interaction between her and the singers.
AI + The Jacksons
I can't talk about collaborations without mentioned singer/rapper Her list includes:
Snoop Dogg
,
K'Naan
(yes I am aware that he's Somali-Canadian),
Trey Songz
,
Boyz II Men
and
Chaka Khan
. She also teamed up with blasian singer Judith Hill, who is mostly known as a backup singer for Michael Jackson and her appearance at his funeral. They made the song "
For My Sister
." The most random collaboration has to be with The Jacksons. Yes I'm talking about Jermaine, Marlon, those Jacksons. The connection was made to celebrate AI's ten years as an artist as well as the Jackson going back on tour.
But not every collaboration has been as obvious. There are many Japanese artists that have worked with American producers and song-writers as well. Here are a few folks that have worked with Americans on a more behind-the-scenes basis:
Crystal Kay + Jimmy Jam and Terry Lewis
Jimmy Jam and Terry Lewis are mostly known for being the men behind some of Janet Jackson's biggest work. So it seems like a good fit for Crystal Kay to work with them. They were behind the song "Kirakuni," which Crystal Kay sings in English. I'm actually not sure of how I feel about this one. The song and video screams Janet Jackson to me. Apparently Crystal Kay wanted this to be more like Janet since she is a huge fan and Janet is an influence on her music. But I feel like CK gets a little lost with everything going on here.
Utada Hikaru + Jimmy Jam and Terry Lewis
Utada Hikaru can give AI a run for her money when it comes to the amount of people she's collaborated with. However hers has been more behind the scenes as well. She's worked with
The Neptunes
,
Timbaland
,
DarkChild
and stepped outside of Americans to work with
Stargate
. One of her earliest collaborations was with Jimmy Jam and Terry Lewis for the song "Wait and See~Risk." Compared to the CK collaboration with the men, this one has a much strong Utada Hikaru feel to it.
Hirai Ken + Babyface
When Hirai Ken is in full R&B mode, his style is probably similar to Eric Benet or Joe or Babyface. So it seemed like a good idea to have Ken and Babyface work together for Ken's single "Missin You." the song is a pretty good blend of style from the two artists. In the same single, Ken also did a cover of Babyface's "When Can I See You Again." I don't know what the fuck is going on in this video though, Ken's videos are always random.
平井堅 - missing you
by Kobukuro
These are just a few of the collaborations out there. Here's super short list of some other little known America-Japanese collaborations:
Shota Shimizu and Joe - "Be With You"
Shota Shimizu is a more recent R&B/pop/ballad artist who got the opportunity to work with R&B crooner Joe. Shota also appeared on the remix of Joe's song "Roll Wit Me."
MISIA and Erykah Badu - "Akai Inochi"
This was an album track on MISIA's Mars and Roses album. Erykah Badu doesn't really do much in the songs outside of providing some minor back up vocals. Erykah later did a cover of one of MISIA's most popular songs, "Everything."
CHEMISTRY and John Legend - "Tookage"
This was an interesting case because John Legend's participation for this song was solely playing the piano you hear in the music. LOL but John Legend's name was all over the single release, leading people to think he had a much larger role in the song. Of course it's a Chemistry song so I love it anyway!
Kubota Toshi and Angie Stone - "Hold Me Down"
This song actually appeared on Kubota Toshi's second American album titled
Time to Share
. It's a smooth R&B song that makes me sad that Toshi didn't get the popularity her deserves. That album also features a collaboration with rapper Mos Def as well.
Verbal and Nicki Minaj - "Change Change"
This collaboration is a bit more dubious than some of the other ones listed. Verbal--who is probably the king of Japanese collaborations release a solo album last year titled
VISIONAIR
and featured Lil Wayne, Drake and of course Nick Minaj. Unfortunately the collaborations were marred with accusations of the American artists not actually appearing on the albums or using rhymes that had been recorded much earlier for different songs. Verbal has insists the collabs happened and seeing as he did get to work with some big names as a member of the Teriyaki Boyz, the idea of him working with Lil Wayne and Drake isn't that far fetched.
Koda Kumi and Omarion - "Slow"
The is one of the later collaborations, happening just earlier this year. While Omarion's popularity may have waned a bit in the US, he still has a pretty large following in Japan. Koda Kumi often toes the line between pop and R&B and had already worked with Fergie as well as T-Pain.
I'm sure there are a few collaborations that I missed, but this is a start. I'm looking forward to hearing what CK and FEM bring out this year and I'm hoping to see more collaborations between American and Japanese artists soon!