Dating Asian Guys 101: Run Girl Run! Guys To Avoid
Previous articles:
Woohoo on to Part Four. Now I know in general I advocate for Asian men. Hey, they're all hot, funny, smart, and great guys right? Well actually that's not ture. A lot of them are fucking assholes. So I wanted to point out 5 particular types of guys with massive red flags that can give you serious headaches if you're around them too long. Now of course these types of guys aren't exclusive to Asian men. I'm pretty sure you can find them in any race. But you'd be amazed at the number of women who actually don't think that Asian men can be jerks and are genuinely shocked when they meet these guys. And the majority of these types also bother other people interested in AM/XF relationships since some of you can find
discussions
about them
on message boards and the like. So I just wanted to take a look at the some of the most obnoxious guys and why you should get the hell outta dodge when you come in contact with them. Now some of these types I'm sure I have covered before, but hey, some things just need to be said over again.
So here are five types of guys you need to watch out for (beautiful art included):
Nick The Nice Guy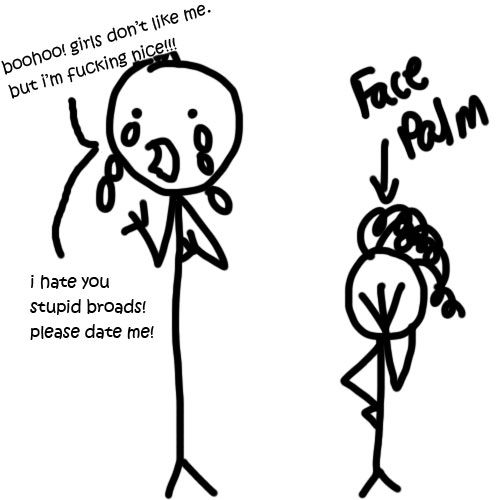 The Nice Guy. Now being a "Nice Guy" isn't really an Asian man thing, but it is a common discussion when it comes to dating them. You'll find several threads on Asian men related boards of men lamenting being the nice guy. Or it's on other boards where someone isn't interested in Asian men for being "too nice." Even Stuff Asian People Like wrote a short article about Asian men being Nice Guys. Some blame this stigma falling on Asian men due to stereotypes of them being weak, effeminate, and/or passive. Others say these traits are a part of Asian culture, so it doesn't fly as well when you're say, living in America. I've encountered the Asian Nice Guy on a few occasions...and well...I can't stand them. And by the way I'm not talking about the nice guy that opens the door for you or picks up something you dropped on the floor. I'm talking about Nice Guys. So what's the difference between the two? Well for one nice guys never call themselves "Nice Guys" especially not with a negative connotation behind it. The typical Nice Guy is a dick who thinks that putting women on a pedestal or being her doormat is the way to her heart. He can't function unless he knows her opinion on everything, he can't think for himself. He's clingy, always in her space. He's too scared to admit their feelings for her, get upset when she falls for the so-called "bad boy." He'll comfort her later when the bad boy breaks her heart, but it's not because he feels bad for her. Oh no, he's doing it because he hopes that this will lead her to notice him instead.
Run Girl Run!
Nice Guys often have a sense of entitlement, thinking girls should fall at their feet because they're so "nice." But man, do they become ugly bitter assholes the second you're not on board with their "niceness." They suddenly are going on rants about how all women are bitches and blah, blah, blah. Nice Guys often fail to notice that women in general are attracted to men with confidence, something with the alleged bad boy exudes. By the way this isn't just a bad boy trait, but Nice Guys are too busy being ready to jump on women for not wanting to lick their balls. Nice Guys can't understand that he's being a needy fucker and slips into "woe-is-me" mode and gives up on everything rather that looking for a well-adjusted girl. Or worst, YOU become the "Nice Girl," ally to the Nice Guy, who watches him go after these "idiot women" only to come complaining to you about how it didn't work out. Either way, do you really want to deal with the neediness of these guys? Seems like a serious waste of energy there. Keep it moving.
Sang-ho the Student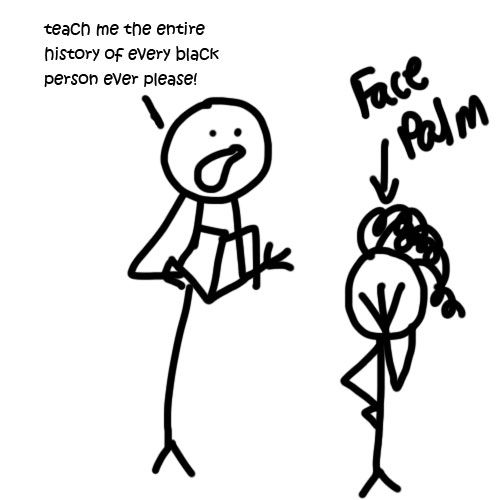 So y'all know how I constantly rag on girls who are obsessed with Asian culture and bug asian guys about it? Well there's a fair amount of Asian men with similar attitudes. These guys just love the idea of a foreign girl, British, Jamaica, American, Australian, French. They want to know everything about your culture. So they ask...and ask...and ask...and ask. Next thing you know, you're grading his essays about the American revolution. But when it comes time to learn just a bit about his own culture, he's too busy, or just not interested in talking about it. Then there's are the thugabees who are looking for you to be his HBCU professor on all things black, but I've already given them enough crap too, LOL.
Run Girl Run!
There's nothing wrong with learning and sharing from one another. But the key thing...learning and sharing. You spend a little time helping him with his English and he spends a little time helping you with you Tagalog. One-sided conversations can get very tiring very fast and you'll probably just find yourself annoyed with all the questions all the time and wondering if he actually liked you or just looks at you as the teacher he can fuck. Besides Google translates things into a billion languages, tell him to look it up. Keep it moving.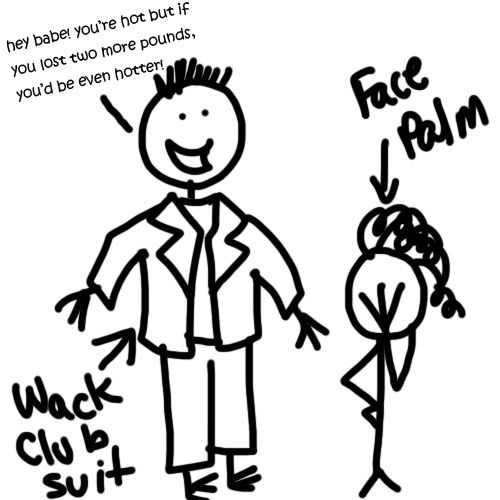 PUA or Pick-Up Artists have been around for quite some time, but recently the ideas of PUA have been gained a small following in the Asian male community. It's not difficult to find sites and blogs of self-proclaimed Asian ones, using all kinds of tricks to nab a girl. Mots of the time these guys go for white women, but a few have set their eyes on women of color as well. Many PUAs are former Nice Guys who were tired of being Nice Guys. In their eyes they see themselves as simply increasing their confidence and becoming more comfortable around girls. However, in building their own confidence, they'll quickly find ways to undermine yours giving you backhanded compliments in the hopes that he's taken enough shots at your self esteem that you'll want his number. Or they'll uses a few words and actions to try to manipulate you. PUAs mostly work their "magic" in clubs and bars but on sometimes they'll branch out to the girl sitting on the bus or the one walking to class.
Run Girl Run!
These guys are probably the easiest ones to spot and watch out for since they generally tend to "work" in bars and clubs. I'll say first off there's nothing wrong with having game or being confident. After all there are tons of article aimed at girls about flirting right? LOL hey, I'm doing some too! But a real conversation with these guys will probably reveal a few things. These guys may geta ton of numbers and even bang someone every now and then, but how many healthy relationships have they had? Better yet, do they actually want one? Remember that I mentioned that a few of these guys are ex-Nice Guys, so it wouldn't be surprising to find some other deep-rooted issues there. Keep it moving.
Ryouma the Race Barrier Guy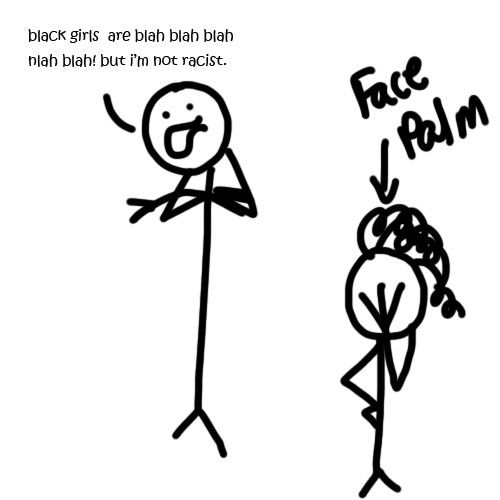 Initially I had this guy marked as a "racist," but wasn't interested in dealing with a troll war in the comments (LOL though I suspect my PUA comments may bring out some teeth). Anyway, these are the typical "I'm not racists but, I don't like black girls" guys. Beyonce and Rihanna, oh yeah they love those ladies. You--the attainable black woman--not so much. He'll have a million reasons why from, "my parents won't let me date them" to "well this black girl I knew a while ago was a bitch" to the meaner, "I don't like those nappy broads." So...why do you still think this guy is cute?
Run Girl Run!
Sigh. Ladies, be it because of race, height, hair color, tattoes, how your shit smells, don't waste time trying to convince a guy to date you. If we just stick to race, sorry, but this guy needs to work out these issues himself. And don't fall for the, "well I would date you but...you're black" line either. The "I would date you" may give you a glimmer of hope, but really it's just another assholey excuse. Keep it moving.
No, I'm not talking about thugabees, I'm talking about these guys:
LOL that video is hilarious to me. No need to draw a pic for this one. Yeah, sure they're probably cute and have awesome bodies. But these mofos can be vain as shit. And their hair is probably more loaded with products that a black chick that just got her hair did. He also parties every Saturday night, getting wasted most nights. His flirting tactics are probably similar to a PUA except his confidence is probably much more genuine. He's arrogance as shit, but that's also part of his "charm."
Run Girl Run!
There's really only one word to describe these guys: dwat (douche + twat). Keep it moving.
Alright that's enough for now. Just remember that assholes do come in all forms. so remember to get over the "OMG He's cute and he's Asian!" mode to start spotting the red flags. Of course these are somewhat exaggerated, but these guys in some form do exist and are just itching to give you a headache. Of course there are a few things to remember:
Don't assume that every Asian guy you encounter be it through friendship or more will immediately fall into these categories. There are plenty of well-adjusted Asian guys out there, it's just unfortunate that there wasn't a radar created to find them, LOL. I think a good bit of conversation can give you a sense of a guy, but give it a good bit of conversation before writing him off.
DO NOT become any female version of these guys! Don't Be The Nice Girl, that just means that Nice Guy will bitch to you about the other girl he wants even though you clearly like him. Don't be the girl asking him a question about teh Asias every two seconds. I'm sure men out there find female version of these guy to be equally unlikable.
Ugh, not so sure why it took me to so long to get update my site. I'm hoping to get back to posting more consistently soon!