Guest Post: Monique Takes on Joyful Noise
Hey everyone! Finally feeling better and starting to get back into blogging again. I know I have some emails to reply to so I'm apologizing to folks about being so slow taking care of them. :( I'll reply back I promise!
In the meantime here's a guest post from blogger
Monique
. who last year gave a great
analysis on the films Sayonara and the Teahouse of the August Moon
.
This time she's discussing the film
Joyful Noise
which features KeKe Palmer, Dolly Parton, and Queen Latifah. I haven't seen this movie yet, but I've hear some good things about it. I'm a fan of all three ladies so I need to check this out soon. Just giving a fair warning that there might be
some spoilers
here, but Monqiue gives some insight on the AM/BW couples that pop up throughout the film. You can check out more of Monique's great mind on her blog as well as her new started
YouTube Channel.
Some good stuff there! Now on to the post:
Joyful Noise: The unsuspecting film with a heavy interracial message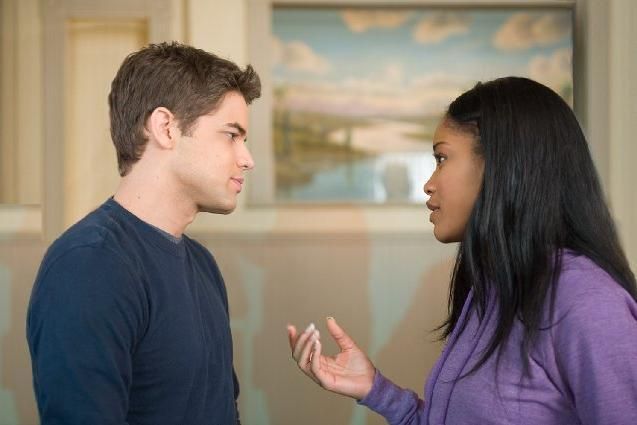 Randy (Jeremy) and Olivia (Keke Palmer) discuss some stuff. Credit: Van Redin –
© 2011 Alcon Film Fund, LLC
Joyful Noise
, the film that I wouldn't have watched if it wasn't for my sister and her love for those type of schmaltzy movies. Now, I'm sure you think I would have jumped at the chance to watch it since there's an interracial couple in it, but sometimes I just
recognize
the interesting factors of some films without actually watching them. That's probably bad of me, but don't act like you don't do it too! We've all had movies that we praise without actually having seen them.However,
Joyful Noise
isn't much of a movie to praise. I love Queen Latifah. I even interviewed her. But I still can't overlook how many plotholes there are in this film. There are times when you get literally lost in the plot. The fact that Queen Latifah is giving her all in this movie–and every movie she's in–makes the plotholes even more painful. For all the work and depth Queen Latifah digs through to turn out awesome performances, you'd think the film could have held her up a little with a strong backbone of a plot. Ditto Dolly Parton and double ditto for Dexter Darden, who plays Latifah's son Walter, a boy who suffers from Asperger's Syndrome and doesn't understand why God made him the way he is. Walter's story alone could have made a movie by itself. As the film stands, however, it's just a standard feel-good movie.
This post isn't really a review of the film, but more of a recognition of a running narrative in the film. Did you notice how many interracial relationships there are in this film? We have a relationship between white guy Randy (Jeremy Jordan) and black girl Olivia (Keke Palmer), a blasian relationship between Mr. Hsu (Francis Jue) and Earla (Angela Grovey), and another blasian relationship between Earla and
the extremely young
Justin (Roy Huang). (It's obvious Earla has a thing for Asian men.)
Sometimes, you can find the most progressive undertones in films and shows you normally wouldn't watch, and this happens to be one of those films. I'm quite glad there's a mainstream movie out there that's putting out a story that's not just about interracial relationships, but interracial relationships that don't contain any racial tension. When Olivia and Randy argue, it's never about their races; it's generally about Olivia's mother, who is being really ornery about everything. Even when the black guy competition Manny (Paul Woolfolk) comes out to challenge Randy, it's just about claiming Olivia, not about "saving her" from her white boyfriend.
Earla might have relationship issues, but it's not because she and Mr. Hsu can't get along, it's because
he died in her bed after they had sex
. That's a big, bad, thing to have happen, but before then, she and Mr. Hsu were getting along just fine, no racial tension existing at all. Also, I might have cracked wise about her having a thing for Asian men above, but she's not "thirsty," if you will. She's not one of those women who are chasing down only one type of man because she has an ill-conceived idea about what race is best for her. The men seem to be coming to her, actually, since Justin admitted that he had been semi-stalking her when she and the choir would perform at all of the Joyful Noise competitions. Justin and Earla later get married at the end of the film.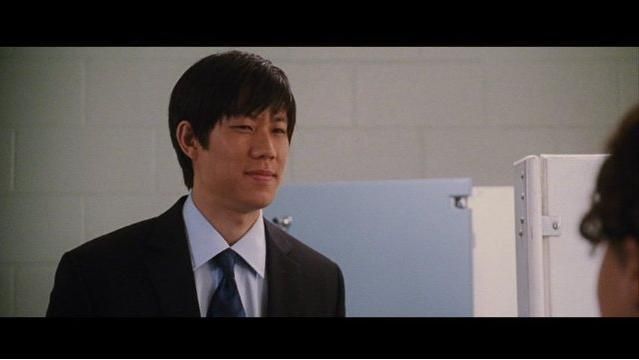 Justin (Roy Huang) reacts to Earla's oddness in this scene. But he's a bit odd himself. IMDB.
The fact that the film even recognizes the possibility of blasian relationships shows there's someone culturally savvy behind the writing and/or casting of this film (I say that since while Mr. Hsu was obviously written as an Asian man, the role of Justin could have been a blind-casting one. I don't know, but it's a possibility. I doubt that a little, though). As I've said on Moniqueblog before, shows and films typically recognize white/black relationships instead of thinking outside of the box and seeing that people of all races can attract one another. Just because white is the technical majority doesn't mean everyone's going to be in a white/other race relationship, so it would make sense to represent all relationships. With an Asian/black relationship being one of the rarest in both society and entertainment, this film is actually making a bit of cultural entertainment history.
Also also, the fact that this film is set in Georgia notes something
The Smithsonian
caught, which is that the film is indulging in the ideas of the New South. People, if you still think the south is full of racists, think again. I mean, I'm not going to lie and say there aren't racists in the south–racists are
everywhere
, mind you–but from what I've experienced, the majority of the New South are culturally savvy, like experiencing the differences new cultures bring, and (gasp!) marry outside their race. I can't tell you how many white/black, white/Latino, white/Asian and even some black/Asian relationships I've seen in
Birmingham, Alabama
. Heck,
I
was almost in a black/Asian relationship myself, but that's getting a bit too personal for my internet comfort zone. I would love to ask the writer and director of this film, Todd Graff, the thing that propelled him to write about race relations in this film, but I don't think I will be able to, since I've kinda demolished the film in the top two paragraphs.
In short, while I might not love the film for its huge holes, I do like the fact that the majority of the major relationships in this film reflect the growing number of interracial relationships in America. If only there was a scene with Earla and Justin posting pictures to
blackwomenasianmen.tumblr.com
, then this film would be culturally complete.