The Adventures of Shen and ShaSha: New York, New York!
Happy New Year Everyone! Wanted to get back to my blog earlier, but I've got a really nasty cold. Today is the first day I've actually been able to sit at my desktop to work. Hopefully this mess will go over soon!
So Christmas has come and gone. It was pretty low key for me and Shen. We did decide to do a gift exchange. Shen got me some silver jewelry because he knows I got nuts over it. He also got me some comic books, and bought me a few things in NYC which I'll get to later. I got Shen a Star Wars Lego set, a watch, a Rottweiler calendar--he really loves those crazy big dogs--and some novelty Christmas undies, LOL. #freak.
One of the piece of jewelry from Shen.
So on to New York! It's been about 10 years or so since Shen has been to NYC and for me only a few years. However, my trips were often job related so I didn't really get to see much when I was there outside of
FELA!
(which is a really awesome play by the way),
MoMA,
and a few Japanese owned stores and restaurants.
Shen and I spent a few nights at a hotel in Brooklyn, then made our way to Harlem to stay at a friends' apartment. The hotel in Brooklyn was interesting. It's a new hotel that's owned by a DJ. The hotel wasn't in the popular or hipster type area of Brooklyn like Williamsburg or Park Slope. Some of the TripAdvisor reviews complained about the sketchiness of the neighborhood but shit, I'm from Detroit, and now living in the DC area. Not a big deal to me or Shen for that matter.
In Brooklyn, Shen and I did geek out a bit, checking out comic books stores and
Zakka
, a Japanese owned store that carries a lot of cute quirky Japanese artsy things and graphic design books. Shen was able to indulge in his obsession over cute little robots while I salivated over books about typography illustration, and character design. Shen bought me a book about tote bag design, which is inspiring me to look into this as a way to make a few bucks on the side.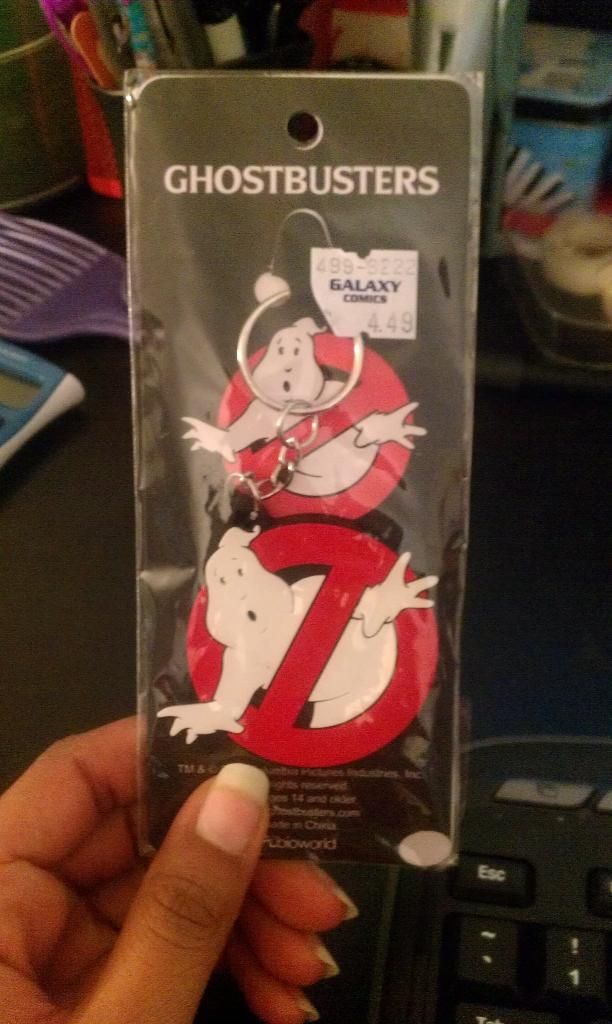 Another gift Shen bought me cuz Ghostbusters is my all time fave movie.
I'm a little ignorant about the demographics of Brooklyn. LOL okay I'm totally ignorant; I just assumed the area was mostly black and white. And I wasn't totally off base of the stats Wiki has is right. But I was surprised when the stats also listed the Asian population at about 9.5%. Shen and I did notice a fair amount of Asians riding the trains, though we didn't see them walking around the area we stayed. LOL Shen commented on the amounts of Sweet Asian Hair he saw--well we both did that throughout the trip. Shen is still having trouble finding a hair salon he likes in the DC area, so I suggested he asks one of the Asian where to get a hair cut in Brooklyn. LOL I think he did seriously consider it for a brief moment before saying, "no."
Sadly we didn't get to see anything in Harlem. :( The day we switched from the Brooklyn hotel to Harlem, there was a rainy/snow mix. We were already feeling a little sick from the cold weather, tired from all the walking we'd done the previous day in Manhattan, and didn't want to be out in the snowy weather. So we spent the day in, ordering pizza and watching
Tower Heist
.
In Manhattan, We went to the Museum of Modern Art, probably my favorite museum of all time. We also geeked out in Manhattan as well going to see a
Harry Potter
exhibition that featured actual props and costumes from the film. We also went to Midtown Comics a well-known comic store in Times Squares. LOL it's funny, a lot of people go to New York to take in the high culture and clothes shopping...Shen and I go to comic book stores and see Harry Potter Exhibitions. Oh and Toys R Us, we also went to Toys R Us.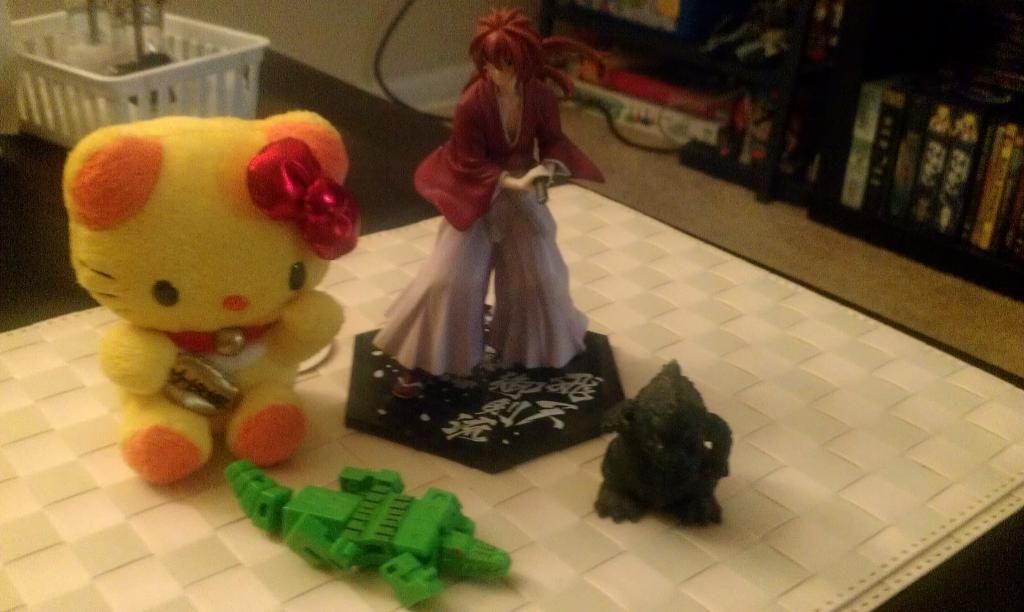 Some other stuff we got while in NYC. Hello Kitty Lucky Kitty is my fave pickup.
Because it was so close to New Year's Eve, it was pretty packed everywhere Shen and I did a lot more hand and arm holding while we were out, something that we hardly ever do. LOL yeah it was pretty clear that we were together. But while in NYC, I also noticed the lack of IR parings happening. I've heard some pretty contrasting things when it came to IR dating in NYC, either it's happening everywhere or it's not happening at all. Guess that time there just weren't many couples out that day; didn't even spot black/white pairings. In fact the only time I saw other IR couples was at
Katsuhama
, a Japanese spot I like to hit up when I'm in the city. There was a AM/WF and BM/AF couple. Probably the oddest thing about it all was that those couples and me and Shen were the only IR couples in the place...and all sitting side-by-side. I don't think it was intentional, but I was somewhat amused none the less.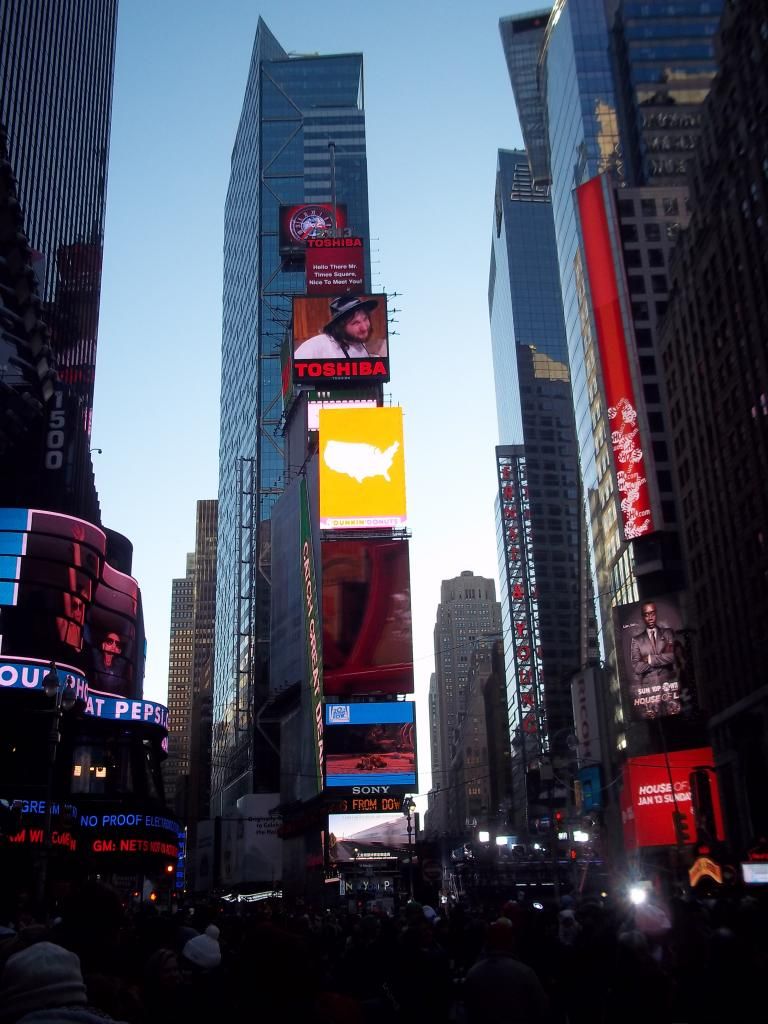 Just a random shot in Times Square.
I dragged Shen to Kinokuniya in the hopes of getting EXILE and CHEMISTRY CDs. While at Kinokuniya, Shen became fascinated with Donyastu: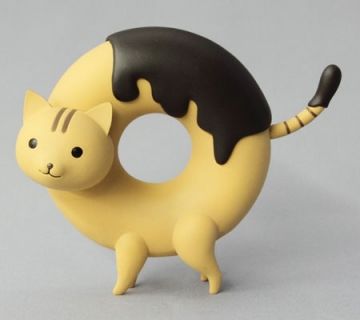 Yes, that's a cat. A donut shaped cat. Gotta love Japan for their ability to make something so WTF so cute.
Shen and I came home on New Year's Eve. So we spent the night in, ordered Chinese food, and popped open a bottle of wine. Overall I'd say we had a pretty good third Christmas and New Year's together. Now we're both trying to get our shit together. He's working on his practice and I'm working on my stuff. Welll as soon as I get over this fucking cold...