The Adventures of Shen and ShaSha: The Proposal
Hey everyone! Sorry it's been a while since I've touched my blog. I've been busy doing some design work for Shen as well as a few others. A few close friends and I restarted a writing circle we had some time last year while one of them was in Korea. And Shen and I have been busy trying to figure out our living situation for the upcoming months. So my blog's been on the back burner for those other things. I'm sorry about the lack of comments I've had hear, I'm hoping to get back to a better blogging schedule soon!
So as you all know Shen I got engaged last week. The whole situation was somewhat awkward, but it's mostly because despite all the confidence I try to put on here on this blog, I'm still an awkward person. And so is Shen for that matter. And despite the fact that we both know ever several people that have been married, have gotten to weddings and have even been in weddings, when it came to our own situation...well we didn't have a clue.
We actually went ring shopping the week before Shen proposed. Shen and I have been talking about getting married for some time, but it was usually in a joking manner. So on a random Saturday when he asked me if I wanted to go ring shopping I was surprised. But again I didn't think too much of it, so I said sure.
Unfortunately we picked a pretty crappy day to go out. Shen wanted to take me to a specific store that was about a 45 minute drive from where we live. And that day it was supposed to snow. The snow started while we were on the road, but it didn't seem like that big of a deal because it wasn't sticking. However by the time we got to the snow, there was a bit of snow that had piled up on the road and sidewalk. But we were already in the city so we went to the store.
The store was a small shop owned by a man that made personalized jewelry and somewhat of an antique jewelry collection. I actually found myself more distracted by the amount of beautiful silver jewelry. Shen was clear that he was on a budget, but he also knew I wasn't type of person that would want a huge diamond ring. For the most part when it comes to my jewelry I don't spend a lot of money on it because I've lost rings, earrings and have broken necklaces. LOL actually I'd rather spend $200 on a good sturdy purse instead of a pair of earrings. Well actually I don't think I've ever even spent $200 on the purse, the most I've probably spent is about $120 for a Michael Kors bag I got on sale.
Anyway the store owners pulls out a selection of other jewelry and I'm immediately taken by the ring that has a smaller diamond and the rose on it. I loved the intricate design of the band as it somewhat matched rings I already own. After a bit of negotiation, we decided to get the ring.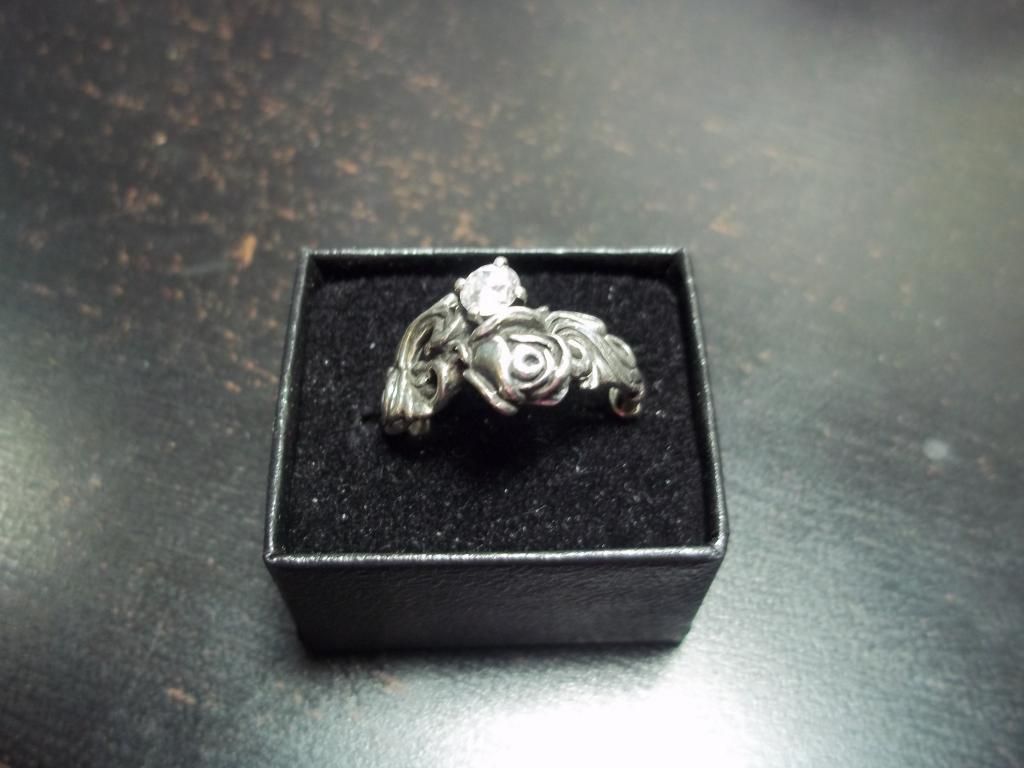 While the owner re-sized the ring, we hung out in the city, went toy shopping (for Transformers of course!) and eat dinner. We were getting a bit nervous about the snow since it was still coming down and sticking. I'm not that scared of snow since I grew up in Detroit and know how to drive in it. But people in the Maryland area freak the fuck out over snow. Plus my current car is much lighter than than heavy Dodge Dynasty I used to drive around in. So I wasn't too happy about driving in the snow, but we made it back in only about and hour or so.
So even though we had a ring, Shen wasn't ready to propose just yet. He wanted to talk to my mom about it beforehand. Well actually he somewhat asked me if he should ask my mom about marrying me. And again I said sure. I have to say I didn't think too much about it. I know it is a traditional thing that many people like to do, but I only knew one person who's now husband had asked her parents for her hand in marriage. So after shopping for groceries and buying random shit at Target we went to my mom's house to tell her the news. And she was ecstatic about it. Shen and I also told a few choice family and friends as well.
But I still hadn't gotten an official proposal. Later that week, it happened...in the most random way, LOL. I was at my computer replying to some emails and I asked Shen to hand me my water glass. Instead of the water, I got Shen on his knee, the ring in his hand, and a "will you marry me?"
And of course I said yes. :)
But Shen and I are a ways off before we get to the marrying part. Right now we're much more focused on saving money to move. Shen is starting up a business and although I work full-time, I'm trying to get more freelance things going on. And we both have a crazy amount of students loans we're very slowly putting a dent in.
Plus I really don't know anything about planning weddings. I think watching too many shows about weddings have actually turned me off from planning one myself. We both have friends (and coworkers) that are already offering to help us with planning, but honestly I have no problems with just going to the courthouse to say, "I do."
But we'll see. We aren't planning a super long engagement--we've both somewhat agreed that having some sort of wedding or just a simple reception type thing would mostly likely happen next year. But who knows, I might post a shot of us standing outside the courthouse later this year, LOL.
Alright, need to get back to work. Thanks to everyone for congratulations us! :D We're both excited and nervous, but looking forward to spending out lives together. LOL as long as we can keep down the arguments over who gets to watch UFC or
Real Housewives of Atlanta
reruns.
I do have another blog post I've been wanting to get out for a while and planning to get it posted over the weekend.