The Adventures of Shen and ShaSha: A Lovely Day in DC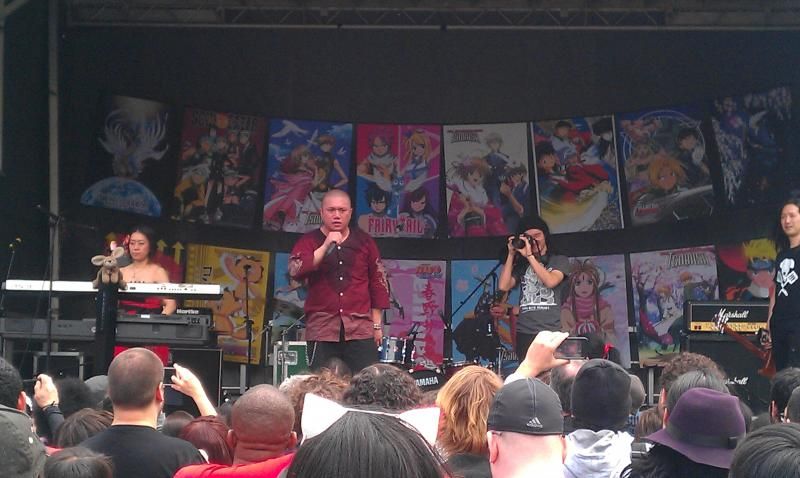 Japanese group Uzuhi. They performed at the Sakura Matsuri
Another Shen and ShaSha post! I normally try to spread these out a bit, but I did mention some time ago I would post pics from the National Cherry Blossom festival. And lately Shen and I have been doing more random stuff, so I'll post more about us.
So a few weeks ago was the National Cherry Blossom Festival. It's a pretty big event in DC and bring people from all over to see the cherry blossoms at Tidal Basin. The festival actually lasts few about two weeks, and ends with the Cherry Blossom parade and the officials (gated-in) festival. The festival is called Sakura Matsuri, which literally translated to Cherry Blossom Festival. I'm guess this is because the festivities--which uses the same name in English--is specifically meant to refer to the two weeks of events. The finale is the Sakura Matsuri.
Shen and I wanted to see the cherry blossoms while they were in full bloom, but we ended up missing them because of too many things going on. So the day of the festival and parade, I made sure to have on my walking shoes because I knew it would be a long, long day of walking. I actually forgot to pick up my camera when we left, so I had to reply on my trusty phone to take pictures with.
Before the festival there's the opening ceremony and as I mentioned, a parade. Last year's opening ceremony brought in R&B/ballad singer MISIA:
Now to me, that was a HUGE deal! MISIA is pretty well-known in Japan and I've already talked about her here's an R&B/ballad-y/house-y diva that is pretty awesome to watch. Unfortunately I missed the performance last year because the you know needed tickets to go to the opening ceremony, something they'd just started doing last year. I missed out on the tickets (but I did get to see MISIA person while I was in Japan so at least I have that).
But the number of Japanese performers at the parade and opening ceremony has been shrinking over the years. For the parade, we didn't get any Japanese acts at all, just Mya and Elliot Yamin. Now I like both these artists, but it somewhat bugged me that this event couldn't bring in more Japanese artists. Hell Otakon got Homemade Kazoku and TM Revolution this year. Of course I understand that the majority of the festivities are free, and it's expensive to bring in Japanese talent. Maybe bring in MISIA depleted their budget for this year. Still woulda been nice to see EXILE or Utada Hikaru. LOL, I'm joking, I'm not that crazy. ;)
So Shen and I went to the festival, like I said is now gated in between a few block on Pennsylvania Avenue. Here you actually can find a few Japanese performers, and I will say that it's great that lesser known performers here do get some exposure. This year we spotted the group
Uzuhi
performing. Here's one of their older videos:
Needless to say they were as entertaining as they are in that video.
Shen and I really didn't spend that much time at the festival because a lot of what's going on doesn't really change each year. There are tons of booths selling anime merchandise, Dance Dance Revolution, cosplay, kimono sales, tea pot sales, etc. I stocked up on a few things last year so the only thing Shen and I picked up was this little dragon: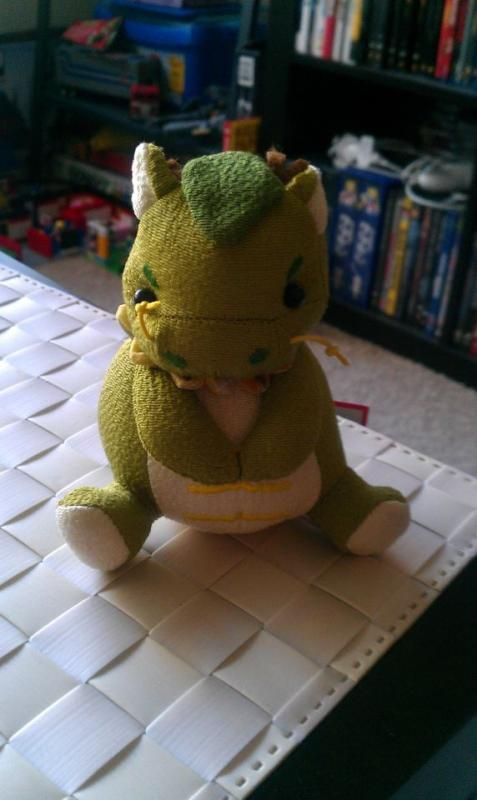 Shen and I each paid half for the dragon. The plan was to share custody of it, but somehow I got full custody, LOL.
And here's a shot of a model train from the
Japan Rail Modelers of DC
: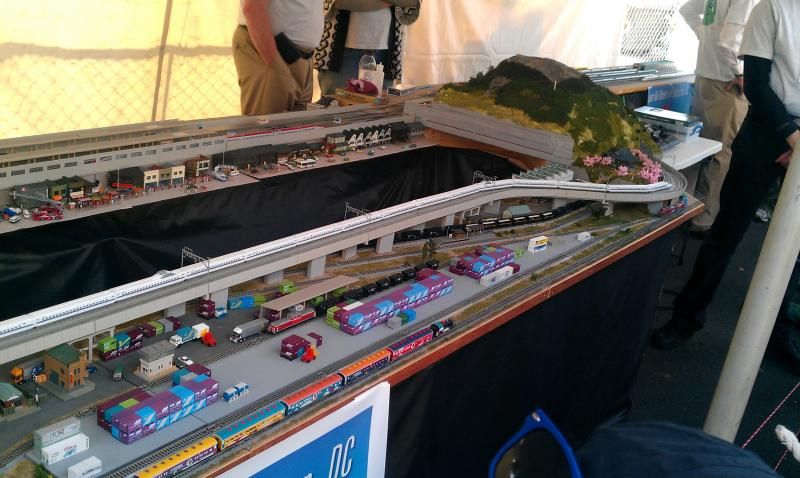 I suppose this is boring to some folks, but trains are really fascinating to me. The first time I ever got on a train was when I was in Japan and I was fucking excited about it. I had a pretty elaborate Lionel set up when I was a kid that "mysteriously disappeared when I went to Japan (a.k.a. my mom threw it away). And seeing the Japanese models got me interested again. Whenever Shen and I get a bigger place and more disposable income, a train is on my list!
After the festival we made our way to the Tidal Basin. And that's a long...ass...walk! There are few metro stations when you get to the monuments, the main one probably being the Smithsonian stop which puts you in the middle of the mall. So getting to the Washington Monument Lincoln Memorial, MLK Memorial and Tidal Basin is a bit of as hike. And it was pretty crowded that day so we had to shuffle our way through lots of families and strollers.
Shen and I finally made it down to the tidal basin to sit and people watch. At that time the cherry blossoms had started changing, but I managed to get a pic of a tree still in bloom: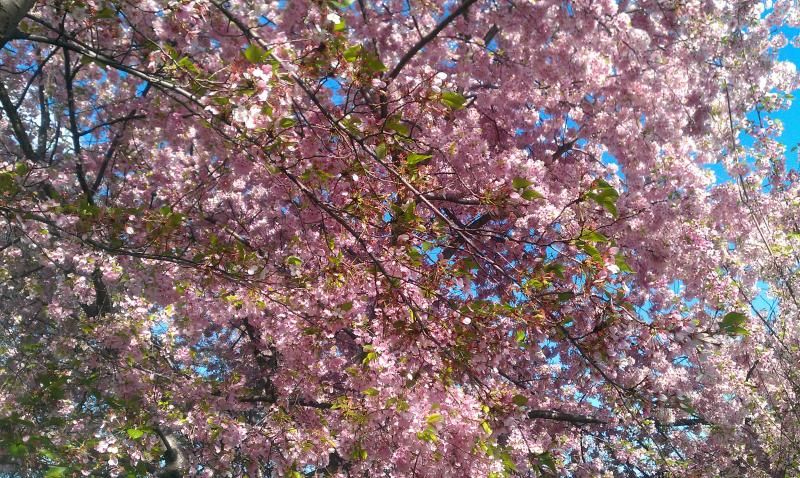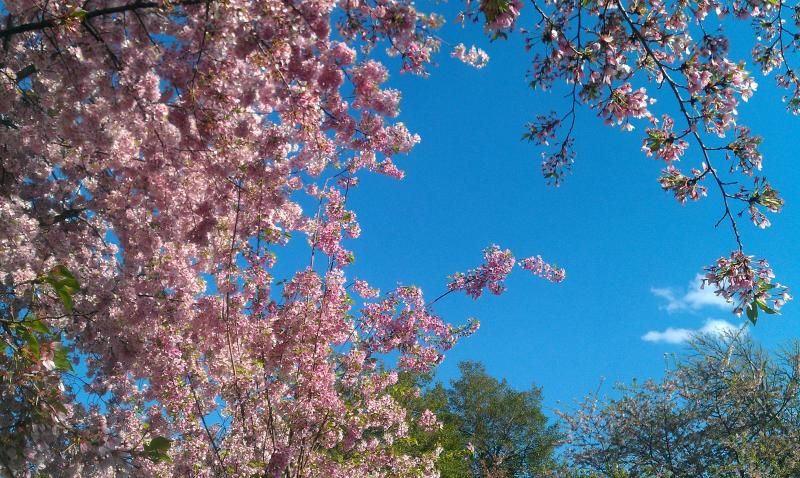 And people watching was fun. Shen and I didn't see any other AM/BW couples but we did spot an AM/WF and AW/BW couple. There were some pretty hilarious moments. There was a dad with his kids and the kids were cute, but whiny. Just being kids. So they all start talking about what they one. One is like, "I want ice cream!" and another is like, "I want pizza." So tired dad is like, "I want y'all to be quiet." Shen and I burst out laughing at that. It was totally something my mom woulda said to me at that age.
We also watched a very cute Shiba Inu puppy run away from his owner and barrel into the crowds, and a couple that appeared to be breaking up while sitting in the grass. Okay we probably shouldn't have been watching but we're both nosy as hell.
Afterwards we got a bite to eat, then headed home to watch
Doctor Who.
Although we're not too big on the festivities like we used to be, Shen and I still had a lot of fun. Now that it's getting warmer, we'll definitely be out in the city more!