The Adventures of Shen and ShaSha: Wedding Day Countdown Begins...
Hey folks!
Sorry the past month has been really crazy for me. There's been a lot going on in my life lately. I must apologize for being so slow to respond to emails and comments here. Outside of removing spam and floating around on Facebook, been a bit inactive here lately.
First, my father died a few weeks ago. I actually found out the news while I was at a friend's wedding about two hours away from home, which was probably one of the worst times to hear the news. We ended up leaving early because I couldn't keep myself composed and didn't want to ruin my friend's happy day and spent the week grieving. My mom, Shen and I drove up to Detroit to get to his funeral. I have to say, by the time I actually go to the funeral, I was starting to feel better about the situation. The funeral was the closure that I needed. Of course it still hurts to think about from time to time, but my dad was the time of person that didn't want to see anyone down, so I knew I had to keep moving on.And despite the situation, I was happy to see my family. A lot of them won't be able to attend the wedding, and it was good to spend that time bonding with them. It was the first time Shen had met a lot of people on my dad's side and I imagine it was certainly an experience for him. After the funeral we all went to my sister's house and the gathering quickly turned into a loud party with music blaring down the streets and booze everywhere. I was used to this behavior, LOL after all I'd been to enough family reunions to know the deal. And my dad's folks were the type who would turn a death of a family member into a celebration of their life, which I kinda appreciate. But outside of one or two "where are you from" type questions, my family was pretty open to Shen and happy to toss a can of beer his way. Unfortunately not everyone will be able to make it to the wedding, but I imagine they'll all be there in spirit including my dad.
Now on to happier topic. Well I don't know if it's really a happier topic. I suppose it's more of a happy yet fucking stressful topic.
Shen and I are about two weeks away from being husband and wife, and I'm starting to hit a freaking-the-fuck out mode. I made the mistake of trying to make a lot of the stuff myself. My apartment is loaded with a bunch of stuff like this: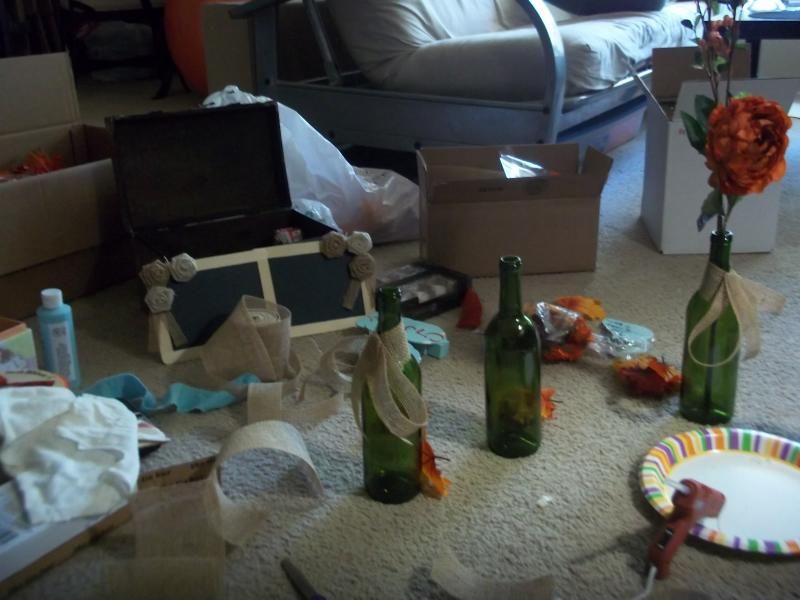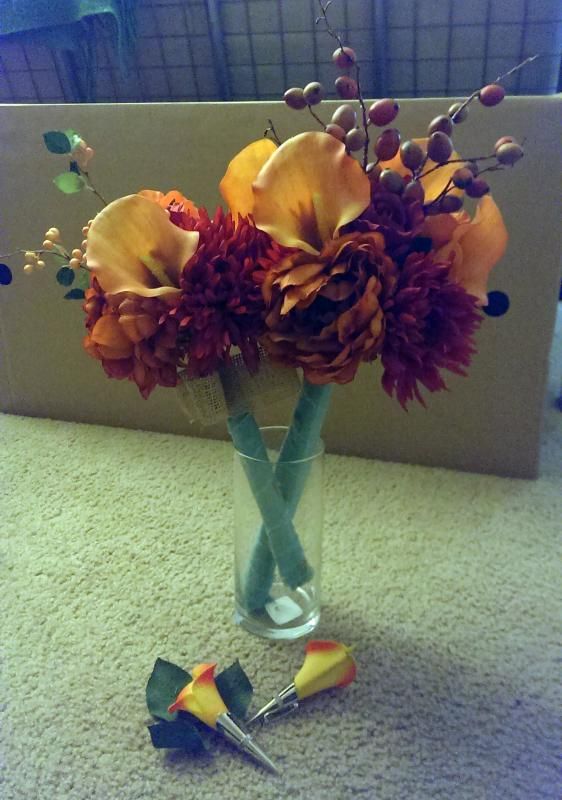 Actually doing that stuff wasn't too bad. I liked making the bridal bouquets for my sister and I. If they get some praise at the wedding I might start selling those bad boys on Etsy! LOL!
Although I'm trying to keep calm, I have a ton of worries going through my mine. Will it rain on us? Will too many back out at the last minute? Will the food be good? Will the decorations be okay? Man I've been losing some serious sleep the past few months!
We're just now getting around to taking our engagement photos. Initially we didn't want to take the photos because we most photographers charged extra for them, however they were included in this particular package we have. We were going to take the photos at one of the museums, but since they're closed, we need to find a new location stat. So far we're undecided between a public library, IKEA, comic book store, and state park. Yes we're very serious about those choices. :) We've decided to use one of the pay museums in DC. We probably won't even get the pics until after the wedding. But I'm okay with that.
But this brought up another issue...make-up. So I hired a make-up artist for the wedding since I don't know how to put on make-up. The only thing I've ever worn in my life has just been lipstick I got from my mom. Unfortunately I couldn't schedule the trial make-up session on the same day as the engagement photos, leaving me to take care of my face all by myself. So I cluelessly went out and spent about $75 on this stuff: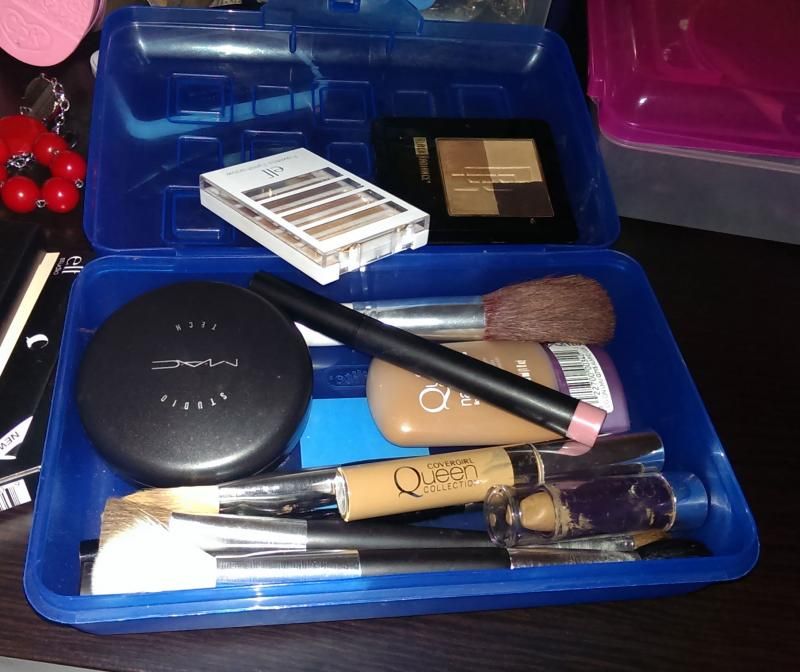 Well the MAC came from my mom. I was too cheap to buy that shit. Honestly, I don't know what the fuck I'm doing. Looks like I'll be spending a few hours on YouTube and hoping my face actually looks like not a hot mess on engagement photo day.
But we still have a lot to do. Besides the favors there's still a guestbook that needs to be made, vows need to be written, a rehearsal...the list is still packed. I should've taken that whole wedding off instead of just a few days. :( I'm gonna try to get another post out before the wedding, but I might have to take a hiatus again to get all the final details done. Man, I really need a glass of moscato right now...